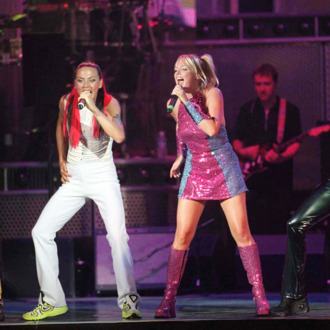 The Spice Girls (L to R) Melanie Brown, Melanie Chisholm, Emma Bunton and Victoria Adams performe on stage for the start of there US Tour.
Photo: Dave Hogan/Getty Images
Have you, perhaps, felt a little left out during the recent nineties reunion craze? Were you not a devoted At the Drive-In fan? Can you not name the other five members of Pulp without the help of Wikipedia? (Actually, there are probably some legitimate Pulp devotees who can't either.) If any of the above applies to you, then today is maybe the day that you can jump up and down and IM all your disinterested friends about buying tickets to the show of the century because, wait for it: The Spice Girls are probably reuniting. And not just for some boring old arena show, but for the Queen's Diamond Jubliee! Scary Spice hinted as much in this interminable morning show interview about her Jenny Craig diet, and while it's not confirmed, the occasion makes so much sense. How else would the U.K. celebrate 60 years of a monarch's uninterrupted reign? Platforms and Union Jack dresses are the only appropriate look. (Prince Charles agrees.) Britain! You continue to amaze and delight.