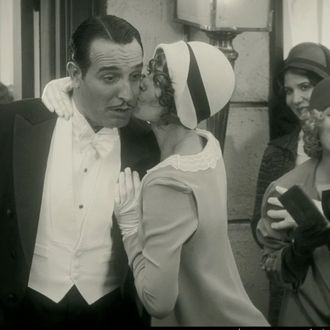 What a total surprise! Nobody could've seen this coming! The Artist's Michel Hazanavicius winning a Directors Guild Award? Over Woody Allen (Midnight in Paris) and Martin Scorsese (Hugo)? Really?
Actually, everyone saw this coming. The only big shocker now would be if The Artist doesn't take Best Picture and Best Director at next month's Oscars, not to mention at least one or two of the eight other nominations it received. As the Hollywood Reporter points out, only six times in the awards'$2 64-year history has the feature film winner for outstanding director not clinched the Best Director gold man.
There were other winners, of course. The television drama award went to Patty Jenkins for the pilot of AMC's The Killing, a crime series based on the Danish phenomenon that swept Europe. The comedy award went to Robert B. Weide for last July's "Palestinian Chicken" episode of Curb Your Enthusiasm, Larry David's still-going-strong HBO title. And the mini-series nod went to John Cassar for the highly controversial The Kennedys, which ended up at Reelz Channel after being bumped from the History Channel.