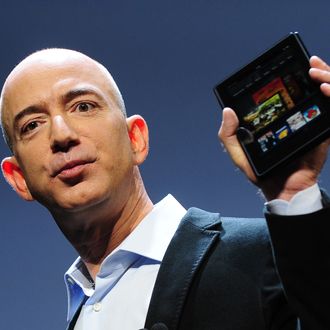 B&N-killer? Amazon's Jeff Bezos with the Kindle Fire. (Emmanuel Dunand/AFP/Getty Images)
Photo: EMMANUEL DUNAND/2011 AFP
For years, Barnes & Noble was the scourge of independent booksellers everywhere, driving them out of business with its strip mall superstores. Then along came Amazon with its bookstore-killing Kindle and all of a sudden Barnes & Noble was recast as the last great hope of (paper and ink) book lovers everywhere. When this magazine visited the subject in 2010, it was already clear that the company, and its main brick-and-mortar competitor Borders, were in the fight for their lives as more and more consumers turned to the Internet. Borders never jumped on the technology bandwagon and last year it finally succumbed. In a last-ditch Hail Mary of its own, Barnes & Noble launched its Nook e-reader in late 2009. Now it's in the home stretch, explains today's Times — either the Nook succeeds in saving the company's physical bookstores by propping up its bottom line, or else they too are gone the way of the dinosaurs.
In the past two years, the chain, headed up by Dallas native William Lynch Jr., has already shed almost half its bookstores, begun reconfiguring the remaining outlets (he plans to phase out the CD and DVD sections), and plowed millions into Nook's 300-person Silicon Valley operations. That investment appears to be paying off. While the Kindle accounted for nearly 90 percent of all e-books sold several years ago, it's now closer to the 60 mark, says the Times, while the latecomer Nook has secured a beachhead, about 27 percent of the e-book market. Now it's time for Barnes & Noble to leverage its physical stores — a major source of impulse purchases — in conjunction with the Nook, increasing print and digital sales.
All this is tentative good news for publishers, one of whom compared an Amazon-controlled marketplace to Cormac McCarthy's Über-dark best seller The Road: "The post-apocalyptic world of publishing, with publishers pushing shopping carts down Broadway." After all, Barnes & Noble's survival is not only important for printed books but for the publishers churning them out as well, since Amazon's direct-to-consumer approach threatens their very existence.
But investors don't yet seem convinced. Barnes & Nobles has consistently underperformed Wall Street's expectations over the past several years, and earlier this month the company's stock slid 17 percent on the latest round of disappointing numbers. Yet Lynch maintains that "had we not launched devices and spent the money we invested in the Nook, investors and analysts would have said, 'Barnes & Noble is crazy, and they're going to go away.'" At least for the moment, there remains a sliver of a chance that Barnes & Noble will scrape through and save printed books for the next generation.
This post has been updated throughout.
Related: The Billionaire and the Book Lover