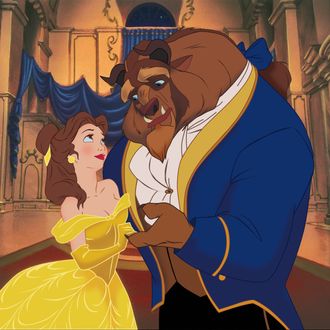 Beauty and the Beast
Photo: Disney
Yesterday ABC announced that it was was developing an adaptation of Beauty and the Beast, making it the second network of the season, after the CW, to order a pilot based on the fairy tale. Why let the fun stop there? Shouldn't every network have its own take on Beauty and the Beast? Surely there are more than enough Beauty and the Beast ideas to go around, be they for CBS, Showtime, or TLC.  Check out our pitches:
FX's Beauty and the Beast: Set within the violent, gritty world of the bordertown drug trade comes this gutsy, bleak drama about a kingpin who winds up keeping his enemy's adult daughter hostage longer than he expected to — and slowly starts falling for her. Does she have Stockholm syndrome? Is this love? Or could this be a long con? Starring Kevin Alejandro.
CBS's Beauty and the Beast: He's a perfectly sculpted personal trainer who's down on his luck. She's the one woman in his life he can't win over with his charm — his mother! From creator and executive producer Chuck Lorre.
USA's Beauty and the Beast: A former model finds a new sense of purpose by using her high-fashion connections to take down drug-runners and bust up human-trafficking rings — a.k.a. the "beastly" side of the industry. Starring Rebecca Romijn.
OWN's Beauty and the Beast: Tina Brown teaches you inspiring lessons in mass media from her perch atop the Daily Beast.
Syfy's Beauty and the Beast: When Maude agreed to be the reclusive Professor Pick's research assistant, she had no idea what she was in for. Turns out his research on anthropomorphizing curses was striking a little too close to home for a cadre of evil wizards and witches — and now they're after both Maude and the professor. But is he really on her side, or will she be left to battle the forces of danger alone? Starring Summer Glau.
TLC's Beauty and the Beast: Behind the crowns and glamor there's one lean, mean pageant-coaching machine: Devon "the Beast" Beistman, whose Bobby Knight-like tactics whip contestants into shape — whether they like it or not.
Showtime's Beauty and the Beast: She's a regular suburban mom, with a husband, three kids, and a dog to prove it. But by night, she has a secret life as La Bestia, Los Angeles' most popular luchadora in the town's burgeoning Mexican wrestling league. Starring Connie Britton.
Oh, we could do this forever.