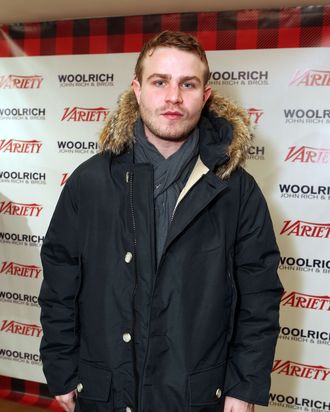 Photo: Alexandra Wyman/Getty Images
As they step into Butcher's Chop House, a prime Park City gathering spot during Sundance, Brady Corbet and Mati Diop, the two stars of the controversial Simon Killer, are on a high. They've just seen Elena, Russian director Andrei Zvyagintstev's austere, stylized drama about the cold relationship between an older couple, which is playing Sundance a bit belatedly, having premiered at Cannes and already done the international festival circuit last year. "It was amazing," Corbet says. "The director got up during his Q&A and actually talked about all the different alternate endings they had for the film — you so rarely see a filmmaker talk about such things." It's then my duty to bring down their high, by informing them that Theo Angelopoulos, the visionary Greek filmmaker who won the Palme d'Or at Cannes in 1998, has died. The two young actors wistfully toast the deceased legend.
Zvyagintsev, Angelopoulos — these are not exactly Sundance-friendly names. But then again, the film Corbet and Diop star in, Antonio Campos's Simon Killer, doesn't have the typical Sundance aesthetic of a mopey relationship drama or indie Oscar-bait flick either. The film, about a young lovesick American in Paris who finds solace and anguish in the arms of a prostitute (Diop), has certainly been dividing audiences and critics ever since it premiered on the festival's second day. The film features disturbing sex scenes with the two actors in extreme states of undress. Todd McCarthy of the Hollywood Reporter was dismissive; Karina Longworth of L.A. Weekly was swooning. This much is true: Nobody can stop talking about the film — a quality IFC Films, which just acquired it, no doubt hopes to take advantage of, and which has kept Corbet reading about it: "I never read reviews, but I've been reading every review I can find of this one," Corbet admits.
I tell them that one critic friend, on his way to see Simon Killer, said that what Sundance really needed was "a good dose of fuck-you formalism." Corbet nods. "It might not be a 'Sundance film.' We had one Q&A where a guy in the audience got up and yelled, 'You're sick! You're sick!' at Antonio. And Antonio — who, by the way, is the gentlest, sweetest guy in the world — stood there for a minute, trying to find the right words, and he finally just said, 'I am.'" (Corbet knows a thing or two about directors melting in the face of testy questions: He had a part in Lars von Trier's Melancholia, which became an instant cause célèbre at last year's Cannes when the director nervously joked about being a Nazi during his press conference and got himself banned from the festival. "In those situations, you become like a frightened little animal," he says. "I think that's what happened to Lars as well. You start feeling like a punk.")
The premiere on Friday was Diop's first time seeing the film. "And it was definitely hard to watch," she said. "Watching some of my more extreme scenes was a bit of a torture. The only scenes I could enjoy were the ones I wasn't in." This is Diop's first time at Sundance. Campos and Corbet initially wanted a Romanian actress to play the part, as they were big fans of many of the films in the Romanian New Wave. "But then we spoke to agents who said that Eastern European actresses were feeling like they were getting typecast in prostitute roles," Campos says. Diop came as a bit of a godsend; the filmmakers had been quite taken with Claire Denis's 35 Shots of Rum, her acting debut. A friend of theirs knew the actress (who is the niece of acclaimed Senegalese filmmaker Djibril Diop Mambety), and it all came together in the nick of time: Diop was cast just ten days before shooting began. Now here at Sundance, the actress still feels a bit out of her element. She peruses the menu, and asks, "Do you think it's okay to order steak tartare in this restaurant?" Corbet assures her it will be fine. "I don't know how good it will be, though," he admits.
Neither actor was uncomfortable with the nudity in the film ("I have no problems playing a prostitute or doing nudity, as long as there's a clear vision behind it. It was a mostly male team, and it would have been no problem for me to leave after one day if I didn't feel at ease with them," says Diop), but Corbet still didn't want his mother, who accompanied him to the festival, experiencing the film for the first time at the premiere, on a big screen. "I showed her a rough cut in our living room," he says. "Both Antonio and I are very close to our mothers, and we wanted to make sure they were okay with it.  What we were most concerned about wasn't the nudity or the extreme sexuality but rather the fact that we're facing certain elements of misogyny head-on." The actor cites two particular sex scenes — one where he does Diop's character from behind, and the other where she does him — as being key moments during which the power dynamic changes in the film between their characters. "It's not the nudity that's troubling in these scenes, it's the aggression and the violent emotions that are on display. "
Indeed, part of the design of Simon Killer, Corbet says, was to "make a film about violence without showing you the violence." To that end, the film, right from the beginning, is full of physical threats and often seems to be building toward some kind of horrific event. "The sound design is incredibly rich and disturbing," Corbet says, "but we didn't want to give anyone the satisfaction, the release of actual onscreen violence." Rather, what they wanted was to create the sense of "having been through something — where we've survived something and been purified by it. "