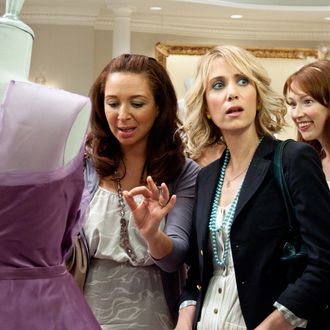 (L to R) ROSE BYRNE, MAYA RUDOLPH, KRISTEN WIIG and ELLIE KEMPER in "Bridesmaids". In the comedy, Wiig stars as Annie, a maid of honor whose life unravels as she leads her best friend, Lillian (Rudolph), and a group of colorful bridesmaids on a wild ride down the road to matrimony.
Photo: Photo Credit: Suzanne Hanover/Copyright: ? 2011 Universal Studios. ALL RIGHTS RESERVED.
Jon Hamm suggested as much in an interview last fall, but the Bridesmaids star and co-writer confirmed that she's not exactly game for a second installment. "[Co-writer Annie Mumolo] and I aren't planning a sequel," she tells the Hollywood Reporter. "We are writing something else." Though it's hard — some might even say sacrilegious — to imagine a second movie without Wiig, Universal claims it's still open to the possibility of Bridesmaids 2: "We are talking to filmmakers now about concepts," a rep says, "and if the right one emerges, we'll move forward." Sources say Melissa McCarthy would be a must-have for the movie, meaning it could be packaged as a spinoff, rather than a sequel. Does that go down a little smoother? Follow-up question: Are Mumolo and Wiig working on a screenplay about a sketch comedian who falls for a hot drummer with an exotic name? Fingers crossed.