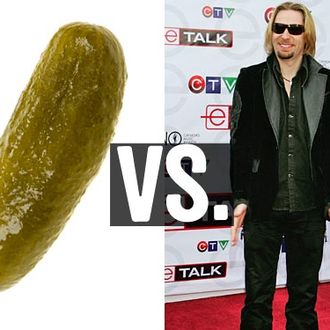 Photo: Mary-Louise Price; Photos: iStockphoto, Jim Ross/Getty Images
Even if you cannot name a single Nickelback song, you are probably familiar with the Canadian pop-rock band as the punchline to almost every musical joke on the Internet. It has become so commonplace to mock Nickelback that the band is even in on the joke — after a group of Detroit Lions fans organized a petition against the band's halftime show, Nickelback gamely made a Funny or Die video addressing the situation. That should have ended the drama, but for some reason, over the weekend, Nickelback snapped. The band (or their PR manager) started sending sarcastic replies to individual insults on Twitter, and while the posts were sort of funny, they were also a little wounded, as if the Internet had finally broken Nickelback's spirit. How did we get here, and who is responsible for this oddly focused outpouring of Nickelback hate? A list of offenders:
Coral Anne, founder, "Can this pickle get more fans that Nickelback?" movement: Back in 2010, an enterprising Facebook user starts a campaign to get more "Likes" for a picture of a pickle. She succeeds (1,468,653 Likes to Nickelback's 1,420,573).
The People of Detroit: When Nickelback was announced as the replacement halftime act for the Thanksgiving Detroit Lions–Green Bay Packers game, some Lions fans were not impressed. They started a petition to replace Nickelback, and it got almost 55,840 signatures (the petition's promotion on almost every pop-culture-inclined Internet site probably helped its success).

Whoever Invented the "Chad Kroeger Ramen Hair" Meme: Yeah, this exists.
Peter Moylan, Relief Pitcher for the Atlanta Braves: In December, Moylan tweeted the following: "Note to @nickelback please attend a @foofighters concert. That's how's it should be done chad." And look! Nickelback responded! With a little sarcasm, even: "Foos are killer for sure. We're doing just fine too thanks. ? for you Pete, is watching Kimbrel better from the bench or on TV?" Okay, they're trying to defuse the situation with some shop talk, but an individual reply, and some confusion? The insecurity is bubbling.
Patrick Carney* of the Black Keys: As told to Rolling Stone: "Rock & roll is dying because people became OK with Nickelback being the biggest band in the world." Again, Nickelback responds on Twitter: "Thanks to the drummer in The Black Keys calling us the Biggest Band in the World in Rolling Stone. Hehe." That's actual trolling.
Mean Twitter Users: In the band's defense: "Fuck #nickelback I fuckin hate them. I hope the all die." is not even creative bullying. So Nickelback decided to go in.
In summary, you can compare a band to weird foods, and you can protest their ability to make money with high-profile gigs, but it is the thoughtless words on Twitter that really hurt. Nickelback are humans, too.
* This post has been corrected to reflect that it was Black Keys drummer Patrick Carney, and not guitarist Dan Auerbach, who gave this particular quote to Rolling Stone.