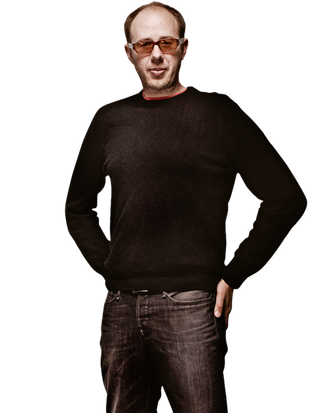 Tom Rowlands.
Photo: Handout
Before Skrillex and M83, there was the Chemical Brothers; the British electronic duo dropped their debut album, Exit Planet Dust, in 1995. Seventeen years and six studio albums later, they're releasing Don't Think, a film of their performance at last summer's Fuji Rock Festival, directed by Adam Smith (in select theaters February 1). Vulture recently got on the phone with one half of the Brothers, Tom Rowlands, to talk about the project, how he snagged cycling tickets for the London Olympics, and the growing popularity of electronic music.
Hi, Tom, how's it going?
I'm all right, except for the weekend, I dropped a loud speaker on my foot. I've broken my toes. It was a bit painful. If I start wandering off on tangents, it's because of the painkillers I'm on at the moment.
Good to know. So, why do a concert film now?
Adam Smith, who directed the film, he's always gone on about how at one point we had to film [our live show] because with all the shows that have been filmed, it would be nice to have one that we controlled. When we started touring in January of last year, the gigs were going so well, it really felt like we had kind of stepped up again. By the time we got to the summer festivals, we'd gotten a good set together, we'd play it, and it was feeling right; we thought, Let's do it now. Adam's idea was to just do one night, capture what one gig was like. Don't try to get the definitive film that's everything you've ever done, just try to make it a very specific event, captured. That really appealed to us, the sort of feeling that it could all go wrong: This panel of the screen doesn't work, what happens if our gear broke — all these things you only think of after they have gone wrong. Putting all your eggs in one basket.
Why focus on the Fuji Rock Festival?
We had to pick a concert, a big one, somewhere we've played a lot over the years and have a real strong attachment to the crowd. We were thinking Glastonbury, but we've kind of seen that on British TV quite a lot. Then the other one that seemed interesting was Fuji Rock Festival. It was somewhere that we'd played lot over the years and we knew it was a magical setting in the forest. The crowd that goes there is really responsive and emotional.
When Americans think of big concerts, they don't really think about electronic acts. Do you approach live performances differently than a guitar band, for example?
Part of our education of electronic music was going to the first raves and seeing bands like Orbital. You'd have a massive event in a field, filled with chaos and stuff, and they'd be onstage with their drum machines and keyboards, and they'd be entertaining this massive crowd. So I think to us it just seemed like a massive thing that live, electronic music could do this. There was the thinking that people tweaking drum machines, synths, and playing with a mixing desk is not enough to kind of galvanize a big crowd of people — but we'd seen it firsthand, a band like Orbital or Underworld do that. For us it was like, Here, these are our instruments, this is what we do, and we know this music can work.
And now electronic music is starting to break into the mainstream in America. Why do you think this is?
We'd go to America in the early days of electronica and you'd go to these massive parties. There would be real fervent love of electronic music, but it was in these sort of isolated pockets. I think what's really changed in the last five years is the joining of these different scenes by the Internet. Also, I think a big part of it is how hip-hop and R&B have integrated electronic sounds. People just sort of got used to hearing these different kind of sounds. What you hear on the radio, Skrillex and David Guetta, it's just big records and big hooks. It's just pop music, really.
Is that a direction you're happy to see electronic music going in?
To be worried about the direction of something is not how music works. Obviously I care about the music I make and I care about whether I have interesting records to play when I D.J. or to be inspired by. But I don't worry about it. The thing is, electronic, dance, and house records have always been pop records, too. One doesn't destroy the other; often something is poking its head above into the kind of mainstream. The other stuff below is still churning away. So I'm not worried about it. It's just how music moves, isn't it? You see those articles about the death of rock music, I don't think it really means much to people who are just listening to music. As long as someone is doing something interesting that excites you and makes you want to play the records again, it's fine.
You've worked on music for films like Black Swan and Hanna. What's that been like?
We're always interested in the marriage of sound and film. Working with Joe [Wright, director of Hanna], doing the whole score for a film, I loved it. It's a whole different way of thinking and looking at music. Usually you go in the studio and it's almost paralysis. Everything is open, you have to find a path to go down. With a film, you're trying to do a very specific thing: "In this scene I want to feel this and then this." This limitation became quite liberating. The first time I went into the screening room, the rush of seeing a piece of our music set against a scene that Joe had done, it was like, Wow.
What's next?
We're doing music for the Velodrome at the London Olympics. I'm a very keen cyclist and was trying to get tickets, but it seemed like the only way to do it was to make the music for the event. It's kind of a long-winded way of doing it.