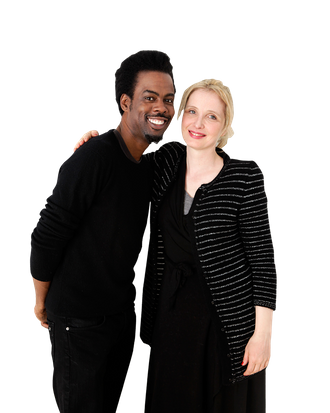 Chris Rock and Julie Delpy.
Photo: Jeff Vespa/WireImage
In Julie Delpy's 2 Days in Paris, her character, Marion, takes a trip home to try rekindling her relationship with her boyfriend Jack (played by Adam Goldberg), only to get bombarded by her boorish French family and a string of ex-boyfriends. In the sequel, 2 Days in New York, Marion and Jack have split up after having a son, and she's now living with Mingus, a D.J. played by Chris Rock, and his daughter from a previous relationship. Rock is incredibly appealing as the straight man to that same wacky crew of visiting Frenchmen — her father (played by Delpy's father, Albert Delpy); her sister Rose, who seems to be averse to clothing (Alexia Landeau); and Manu (Alexandrew Nahon), Marion's former flame who's now fucking Rose and who can't stop himself from doing inappropriate things like uttering racial stereotypes and buying drugs in front of Marion and Mingus's kids. Delpy wrote the part with Rock in mind, and the Sundance audience seemed to think it was a pretty inspired choice of casting. Jada Yuan caught up with the two of them one afternoon at Bing Bar, where Rock told us about his exciting plans to tour with Dave Chappelle, and just before Delpy wound up in the hospital owing to a blinding migraine.
Have you been getting lots of swag at Sundance?
Rock: I'm a little guilty. All the Occupy people — I get it. Like, I saw some protests, and it's like, I get it: "Oh, rich people giving more rich people free shit."
Delpy: The reality is, I get some of the free shit because I'm not rich, okay? And I can't afford that shit most of the time! Like when people give me boots, I'm really, really happy. I got a pair of boots, I was like, "WHOA! I got a pair of boots!" [Holds up foot bearing new Sorels.] And I had to beg for these.
I'm sure it's hard to catch movies when you're promoting your own, but you caught Spike Lee's movie, Red Hook Summer, the other night.
Rock: I caught Spike's, but that was it. That's the only thing I caught.
That Q&A was insane. What compelled you to get up and ask a question?
Rock: Were you there? It was a normal question! It wasn't like I asked anything that you weren't gonna ask him the next day. What would you have done different if you had studio backing? That's all. Would this movie have looked different with more money? Because I thought the movie looked pretty decent.
Delpy: But you know, I think some people, when they get a certain ego, they lose sense of whatever — it sounds almost like a Lars Von Trier moment, you know?
Rock: The whole thing was weird. Even for Spike it was weird.
He just sort of went off on a rant.
Rock: Dude, I was not anticipating that. At all.
But you know Spike!
Rock: Yeah, you know, every now and then I get a call — last minute, always — "Hey, you wanna go to a basketball game?" Because I'm No. 88 on his list. I'm No. 109 on Jack Nicholson's list. I get two people calling me up for basketball. I'm a good basketball date.
Why were you so weirded out by Spike's reaction?
Rock: I knew he was trying to sell a movie, and I knew this was gonna get more attention than the movie. So that was it.
Did you like it?
Rock: I did like the movie! I'm still thinking about the movie. It's a deep movie.
How did you feel about the reaction to your movie? People were uproariously laughing at the premiere. 
Rock: People laughed, man! And they awwwed.
Delpy: I made it cheesy on purpose, ending with a sentence that's so cheesy. A love story with a happy ending.
Rock: Cheese is good. On hamburgers.
Delpy: I know! I wanted something sweet. The film is so not like a typical Hollywood romantic comedy but I wanted it to end, like, almost … almost like a Disney fairy tale.
Had you guys known each other beforehand? Because, Julie, you've said you already had Chris in mind for the part.
Delpy: First of all, I knew and loved his work. I met him briefly at the Oscars, he was the host and I was nominated. We talked, but literally for 30 seconds. But something in me thought, Ah, wow, interesting. You know what I mean? People have crushes, but me, I get into this director mode where I'm like, "Oh, that actor. Oh, that actress. Oh, that person." I'm interested right away. So it stayed in my mind, and then [when] I thought about doing a sequel to this one, I was like, It can't be the same relationship. Somehow Marion has moved on. So I thought, Who is Marion's new boyfriend? I thought of Chris right away, because it stuck in my mind when we first met. I thought we had something. It's an interesting chemistry, you know? I like chemistry that is not like, all smooth, no conflict, no friction, no nothing. I felt like something, an energy, was different, and at the same time we could work together.
Chris, had you noticed some chemistry?
Rock: We're good together on-screen.
Delpy: [Laughs.]
Rock: We generally have a good time together, right?
When you got the script, what did you think?
Rock: I was just happy to get a good script. Most scripts you get kinda suck, especially comedy scripts. "Hey, I have something! It's not funny. Could you make it funny?" That's most comedy scripts. And I got this script and it was a real character, and he had real issues, and I'm a big fan of Julie. I'm like, "Yeah! Let's do it."
You'd seen her previous movies?
Rock: Seen 'em all.
At the premiere, you said your first thought upon reading the script was, "Is Ethan Hawke dead?" Did you call him up just to confirm he was still alive?
Rock: I did not call up Ethan Hawke. I did not. He's not on speed dial.
What did you learn about French people in general from this?
Rock: They're just black people with accents. Not that different, you know?
Delpy: I mean, it is cultural and it isn't. It could be any couple from any background. But it adds fun with the language. That was the fun part for me, to have this interaction which is almost so limited, the father and him: They like each other but they can't speak. How do you communicate when you can't speak with someone?
Rock: It was a precursor to The Artist. They saw how well it worked.
There's a lot about the subtle racism of the French.
Rock: I wouldn't say race-ism …
Delpy: Not in the character of the father, at all, but in the character of Manu. But it's not racism. I mean, the guy is an idiot.
Rock: There's a difference between racism and "I don't know any better. I'm clueless." Racism is like, "I'm trying to make you feel bad." That's racism.
Delpy: "I hate you" is racism. Yeah.
Rock: This is, "I'm gonna say something stupid because I don't fucking know any better."
Delpy: [Laughs.] I think he's more like an idiot. I think he really means that he wishes he was black. He really means it! He really wants to be a cool black guy.
Rock: He really means it and doesn't see anything wrong with saying it.
He also tells your character's sister she looks like Beyoncé when she doesn't look anything like Beyoncé.
Rock: Yeah, he doesn't know.
Delpy: He doesn't know! He thinks it's a compliment. He's trying to flirt with her, trying to pick her up.
Rock: That's just like, "Uhh, Beyoncé. Yeah."
Why did you want to set the movie in New York?
Delpy: Well, the first film, she lived in New York. She's French and she's moved to New York. So she keeps on having her life in New York. I have a lot of French friends in New York. You live in New York?
Yes.
Delpy: Can you walk down the street for two days without bumping into French people? I can't. I can't go anywhere, I hate it! There's a French person on every corner. It's like there's more French people than in Paris. It's ridiculous.
Chris, is this a direction you want to go with your acting?
Rock: I just want to act. I want to have a rounded career, you know what I mean? So I can do something like Grown-Ups, or I can do a documentary, or this movie. Do some stand-up. Direct. As long as people let you do stuff. But the cool thing about this character is, he's a real character, and he's a grown-up. It's weird, I'm 46 but the parts I get offered are not grown-ups.
Delpy: I see movies with people and they're like, late 30s, and they're talking about problems of people that are like 25. "This is a movie of people in their late 30s?" No one has a kid. No one is involved. No one has the complication of a life with children. And all my friends around me, that's all they have, and they're in their late 30s. And I see movies of people in their late 30s —
Rock: Or early 40s.
Delpy: And they have the problems of teenagers. I don't even know people of 25 who have those problems.
Rock: What was that movie? She's Just Not Into You? [sic] All of you guys are like, 35, at least. And you have high school problems. "She won't call!" Huh? What? What are you talking about?
What kind of scripts do you usually get?
Rock: Comedy scripts are … you know … what are most black comedians? Either you're a cop or you're a woman. You're in drag. These weird, odd, kind of … you're fish-out-of-water. You know. You're the funny cab drivers. You're the funny coat check guys.
Even at your stature? Aren't you the reason a movie gets sold?
Rock: I can help sell a movie. I'm good at helping to sell a movie.
Somebody pointed out that all the black and Hispanic actors nominated this year played domestic workers.
Delpy: Scary.
Rock: Hey, man, it was a decent movie. Everybody … they're good! Viola's great. Octavia's great.
Julie, is the Before Sunrise sequel, is that happening?
Delpy: I don't know yet. We'll see if we write it or not. I'm not sure if it's gonna happen. Truly, I have no idea. I mean, really I have no idea. Maybe. I have no idea.
And Chris, what's next for you? You're in What to Expect When You're Expecting.
Rock: Yeah, that's coming out. [Dismissive.] Touring stand-up! Talking to Chappelle a lot. Trying to get Chappelle to go on tour.
Are you really going to make that happen?
Rock: You know, I'm not the hard one in that equation. Trying to make that happen. After seeing Kanye and Jay-Z, I was like, "Me and Dave should do this."