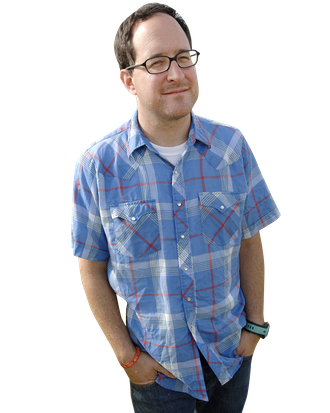 Craig Finn.
Photo: Tim Mosenfelder/Getty Images
The Hold Steady's lead singer Craig Finn has released his first solo album, Clear Heart Full Eyes. The title is a Vulture-approved play on Coach Taylor's Friday Night Lights mantra, but the album itself doesn't delve much into FNL material: While Finn sticks to the narrative style his fans have come to expect, he applies it to the mundane and lonely reality of adult life (this compared with the band's usual focus on things like drugged-out teens grappling with religion). We spoke with Finn ahead of today's release about taking the solo plunge, breaking "bad" writing habits, and identifying with one Friday Night Lights character in particular.
After five Hold Steady albums, why go solo now?
We had a break with the Hold Steady, so there were four or five months where I needed to do something. I'd kind of been fooling around with songs that were a little more narrative and quiet. I wanted to make something that came from a different place, a little more intimate and vulnerable. The other thing is, with the Hold Steady, I don't write the music, just the lyrics. I thought maybe I'd be able to get outside of my bad habits and grow a little more. I was pretty nervous about all this, because I'm not a super-strong musician. Going down to Austin and making this record with people I didn't know forced me outside of something and helped me gain confidence in the end.
What do you mean by bad habits?
I don't know if I mean bad or good, but habits nonetheless. With the Hold Steady, Tad [Kubler, lead guitarist] comes up with a riff, shows it to me, and I start looking in my book where I write lyrics. With this I was trying to write my own music, so that kind of pushed me to do something different.
So the first of last year, I was getting kind of fried on volume, the cranking nature of it. And I was listening to quieter, traditional songwriting. The classic stuff: Bob Dylan, Neil Young, Towns Van Zant, Steve Earl, even Warren Zevon and Randy Newman. They could get so much power out of less instrumentation. That was exciting to me. Then we decided to take some time off, and I was all, Well, this is a good time to do it.
You mentioned wanting to do something even more narrative. How are the lyrics different than a Hold Steady album?
If not more personal, they're certainly more human. They aren't as high and low, they aren't cinematic. Big huge things aren't happening to people. I think they focus on the more mundane parts of our lives. The thing with the Hold Steady, by nature it's a big celebratory rock and roll band. This is more defeated, certainly not as rousing. A lot of the songs are about being alone, being separate and displaced from what you're comfortable with. Which is pretty fertile ground for a touring musician and speaks to how I made the record: going somewhere else and plugging in with people I didn't know.
The album title is a Friday Night Lights reference. I'm guessing you're a big fan?
I'm a pretty huge fan. I was playing with those words, and I thought there was something kind of funny about mixing them up. I saw a bunch of early reports saying it was a Friday Night Lights–inspired album. I felt that was pushing a little too far, but it's an FNL-inspired title. When I changed the title around, Clear Heart Full Eyes kind of signified honesty and transparency. I felt it worked on several levels.
Which character would you write fan fiction about?
Saracen. He was a quarterback who wanted to be an artist. Everything was stacked against him. I think of all the time I cheered for that show, it was for Saracen to get the hell to Chicago and go to art school. You knew he was going to be all right if he could get there.
Should the Hold Steady fans be worried that you're doing a solo album?
No. In fact, we've been writing the new album and next week we have a big session. Steve Selvidge, who joined our band almost two years ago after the last record was written, lives in Memphis. We're really excited to write this one with him, but it's made it a little more — I don't know if formal is the right word, but we have to be like, "All right, we're going to write this week. Steve, you got to come up from Memphis." Maybe it's slowed it down a little, but I think the results will be worth it.
After eight years and five albums, the Hold Steady fan base seems as rabid as ever. Why do you think that is?
I think there's a very communal feeling and that can be very intoxicating for people. I think that we're a little older and we might not fit everyone's definition of a rock band, but I think people see themselves in us a little bit. I think we come across as the underdog. Maybe we're the East Dillon Lions.