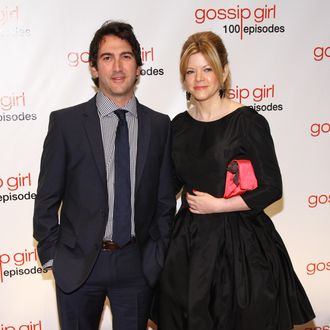 Photo: Neilson Barnard/Getty Images
Almost seven years ago, Farscape executive producer Rockne S. O'Bannon came up with the idea for a new thriller called Cult and sold the project to the then-existing network the WB. The net loved it so much, it ordered a pilot early during development season and even announced it had cast actor Matthew Bomer to star. But just days after Cult got the green light, the WB got the ax: CBS and Warner Bros. announced plans to dump both the WB and another mini-network, UPN, and replace them with what we now know as the CW. And one of the first things the new CW management did when they started making programming decisions? Yup, they dumped Cult. Cut to today, almost exactly six years later. The CW exec who made the call to kill Cult, Dawn Ostroff, has now left the network, replaced by former ABC exec Mark Pedowitz. Pedowitz is in his first year as head of the CW, and today is beginning the process of ordering new projects for the 2012–13 TV season. We'll give you one guess as to the name of his first scripted pilot order.
Pedowitz isn't simply ordering the same script Ostroff put into turn-around six winters ago. Indeed, since that first rejection, Ostroff actually took a second look at the concept and asked O'Bannon to redevelop it; it still was deemed "too dark," O'Bannon told the website NoMeanerPlace.com. O'Bannon then got ABC interested in the idea last year, but still: No dice. Now, however, Pedowitz seems to be signaling his love for Cult by making it his first green light, a symbolic move that usually hints at a network chief's passions. (Bob Greenblatt's first pilot order at NBC was Smash, while David Nevins made Homeland his first priority.) The new Cult, while still written and exec produced by O'Bannon, now boasts the addition of CW faves Josh Schwartz and Stephanie Savage (Gossip Girl), who have joined as exec producers via their Warner Bros. TV–based production company, Fake Empire. Per the CW, Cult begins "after a rash of disappearances and a likely murder," and it revolves around "an inquisitive, young female production assistant on a wildly popular television show called 'Cult' who joins a journalist blogger in investigating the rabid fans of the series who might be re-creating crimes seen on the program, in real life." While it's still early in the development process, insiders say the CW is considering producing just thirteen episodes of Cult each season, rather than the traditional 22.