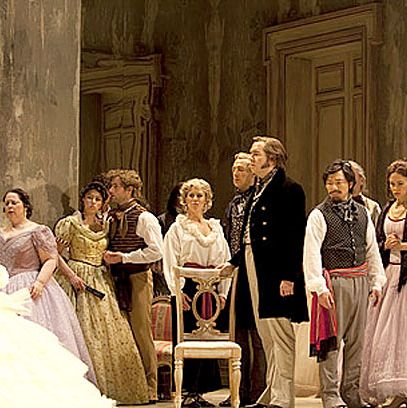 City Opera's production of 'La Traviata.'
Photo: Carol Rosegg
In a thirteenth-hour agreement — a week after rehearsals were supposed to begin — New York City Opera and its two principal unions have hammered out a three-year agreement that will keep the company going, for now. That resolution to a toxic dispute is cause for jubilation, and also for more anxiety. The company that came within inches of folding now has a little more breathing room, but it will take more than a new labor contract to restore faith in City Opera's artistic vigor, or straighten out its finances, or refresh its base of donors and ticket buyers, or find it a home, or guarantee long-term stability.
So much depends on a few good shows. It's an immense relief that the season's four productions — La Traviata and Rufus Wainright's Prima Donna next month, Cosí fan tutte in March, and Telemann's Orpheus in May — will go on. Without that, City Opera might well have ceased to exist. Musicians, singers, and stagehands would have exchanged the promise of not enough money for the certainty of none.
New Yorkers would have seen their cultural landscape immeasurably impoverished. This grand, scrappy, perpetually strapped, and always stouthearted company has been part of the city's story for the past 60 years, and it has accumulated a catalogue of accomplishments that should mortify the competition. Many boldfaced names — Domingo, Sills, Rudel, Handel, Bernstein — are inseparably associated with City Opera. For thousands of young singers, an appearance there has been the reward (in stature, not money) for all the years of study.
The new agreement has rescued not that company or that history but a rump organization — tiny, tottering, and scared. Executive and artistic director George Steel has talked of "right-sizing" the company, but nothing he can do or say right now will make City Opera's current incarnation match the memories of anyone who grew up going to the opera in New York, or came to it later in life, or has any affection for it at all.  What Steel can do is what the hero of an old-fashioned Hollywood boxing movie — or baseball or Broadway or debate-team movie — would do: score a total, tear-jerking triumph. Except that one won't be enough, if the money is to flow again. Now that labor issues have been set aside, City Opera has four chances in as many months to demonstrate not only that it can continue to exist, but that it must.