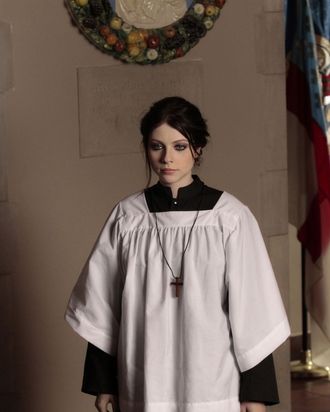 "G.G." - Michelle Trachtenberg as Georgina in GOSSIP GIRL on The CW.
Photo: Giovanni Rufino/The CW
Last night's episode of Gossip Girl, the 100th, ended with what appeared to be a big reveal: Georgina Sparks blogging away as the one and only Gossip Girl. Do you buy it? Is Georgina Gossip Girl? Has she always been Gossip Girl? (Blair would have smelled that out years ago, no?) Or is this a more recent turn of events? You'll recall Gossip Girl recently came back from a legally enforced hiatus after "causing" Blair and Chuck's car accident; it seems possible — and Vulture suspects extremely likely — that Georgina has only been acting as Gossip Girl since her return. (Gossip Girl is good and all, but Georgina would probably know better how to send absurd texts to Nate Archibald that appeal directly to his unwarranted sense of self as a crusading truth seeker.) What say you?