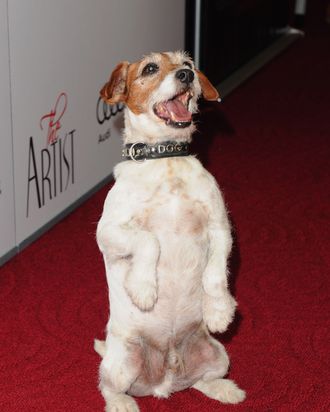 Uggie the dog arrives to a special screening of The Weinstein Company's "The Artist" at AMPAS Samuel Goldwyn Theater on November 21, 2011 in Beverly Hills, California.
Photo: Alberto E. Rodriguez/Getty Images
The nominees for the first Golden Collar awards were announced yesterday, ostensibly saluting the best "performances" from dogs in television and cinema, but really raising more philosophical questions, like "Do dogs even know what awards are, and does it seem insane to give an award to a dog for his/her performance on a reality show, when that is really just the dog existing it its natural state? What do we consider dog acting?" One wonders if perhaps there is a Golden Collar curse, dooming the winners to make crummy box-office flops from here on out. And oy, the politicking — don't even get us started. Uggie, rapidly on his way to becoming the Meryl Streep of dogs, is nominated twice, both for The Artist and for Water for Elephants (total courtesy nomination), but other nominees in the feature category include the dog from 50/50, the dog from Young Adult, and the dog from Beginners. In the less prestigious television category, the dogs from Entourage, Chelsea Lately, Modern Family, Hot in Cleveland, and Suburgatory are up against actual human being Jason Gann, who plays a man in a dog suit on Wilfred. And on the reality side, Giggy (the clear favorite) and Jackpot from RHOBH are up against Sonja's dog from RHONYC, Spartacus from Ice Loves Coco, and Hercules from Pit Boss. Is there nothing that can't be turned into a competition?