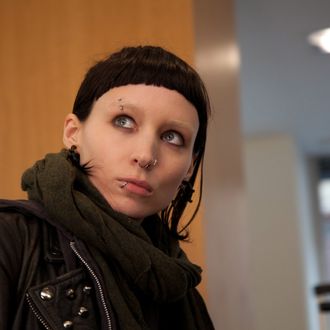 Rooney Mara stars in Columbia Pictures' "THE GIRL WITH THE DRAGON TATTOO," also starring Daniel Craig.
Photo: Columbia TriStar Marketing Group
Though its $60 million holiday gross was perhaps less than expected, given the movie's pedigree (and wildly popular source material), David Fincher's Girl With the Dragon Tattoo will apparently get an English-language sequel after all. "[Dragon Tattoo] continues to do strong business and nothing has changed with respect to development of the next book," Sony tells EW. Both Daniel Craig and Rooney Mara are attached to the next installment (The Girl Who Played With Fire, in which Lisbeth Salander takes on the shady parts of the Swedish government), according to the studio, but Fincher has yet to commit. Based on those last, unnecessary 30 minutes of Dragon Tattoo, though, we're assuming he's at least mildly interested in what happens next.