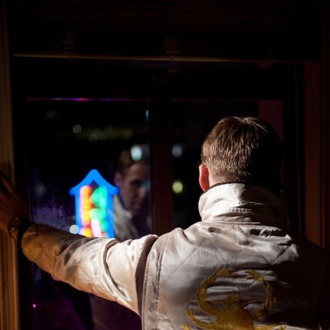 Ryan Gosling in Drive
Photo: FilmDistrict
Last week, Vulture offered you, our devoted Gos-loving readers, the chance to win your very own Drive scorpion jacket.  It's the Halloween Costume of a Lifetime! And it turns out you all agreed (or else you are huge white-satin fans), because we received over 700 haiku odes to Ryan Gosling.   Well done, everyone! And congrats to our lucky winner, infinitejestV, who will receive his very own jacket and a copy of Drive on DVD/Blu-ray.
The winning haiku! From infinitejestv:
‪You fools! That jacket ‬
‪will not look as good on you  ‬
‪as it does on him.‬
And congrats to our two runners-up, who will receive a copy of Drive on DVD/Blu-Ray.
From DeeRuby:

‪Rachel is the one ‬
‪If you're a bird, I'm a bird. ‬
‪Suck it Eva M. ‬
And from TheRealBarrett:
Drive is a haiku, ‬
‪To the point and artistic, ‬
‪Too cool for Oscars.‬
Thanks to everyone for playing!