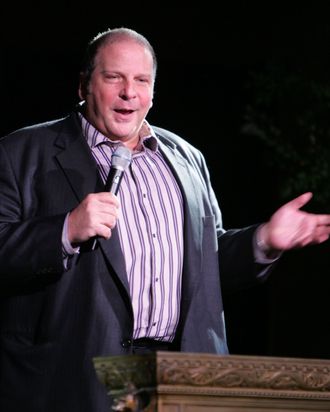 NEW YORK - OCTOBER 23: Comedian Eddie Brill performs onstage at the Project A.L.S. 'Tomorrow Is Tonight'$2 9th Annual Gala at Cipriani October 23, 2006 in New York City. (Photo by Scott Gries/Getty Images for Project A.L.S.)
Photo: Scott Gries/Getty Images for Project A.L.S.
Eddie Brill is out as the comedy booker for The Late Show With David Letterman, according to Mirth, though he will still serve as the warm-up comedian for the show; the show's official reason for his firing, Mirth says, is that he gave an unauthorized interview. In a barbed profile last week, Brill told the Times that "there are a lot less female comics who are authentic" and that he screens "a lot of female comics who to please an audience will act like men" — which is why he booked only one female comedian (but 21 male comedians) in all of 2011. These quotes went over like a dated, sexist, out-of-touch lead balloon, and now Brill has apparently been stripped of his booking duties. (When Mirth's editor-in-chief wrote an editorial chastising Brill, the comic posted in the comments that his words were taken out of context and he was being unfairly judged — an accusation the Times' Jason Zinoman went on to deny with his comment. Brill weighed in one more time and seemed more penitent, saying that he "respect[s] women comics and all comics" but "it is time for me to accept the consequences of my printed words.") Just to be clear, only booking one female comic in a year won't get you canned at The Late Show, but giving an interview when you weren't supposed to will.