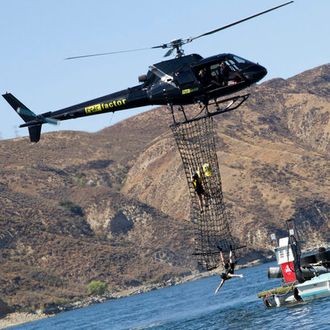 FEAR FACTOR – "Broken Hearts & Blood Baths" Episode 1005 – Pictured: Bus to Exploding Boat
Photo: Michael Weaver/NBCUniversal, Inc.
So guess what you won't be able to watch on your TV tonight? People drinking donkey semen for money! After TMZ "broke the news" late last week that the episode of Fear Factor scheduled to air tonight would feature contestants drinking donkey semen for $50,000, NBC has opted not to air the episode, programming a rerun for this evening instead. While it's all well and good that NBC decided to shield Americans at large from having to watch someone drink donkey semen, it does not change the fact that, at their behest, someone drank donkey semen. NBC! Stop making people drink donkey semen!