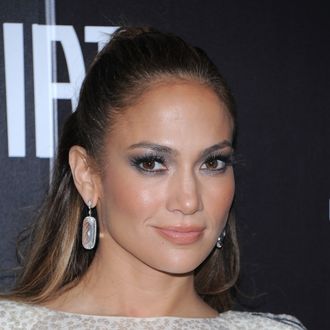 Photo: Angela Weiss/2011 Getty Images
Jennifer Lopez is used to delivering verdicts on Fox, helping determine the fates and fortunes of contestants on American Idol. But within the next few days, it could be Fox execs handing down judgement on J.Lo.  Lopez and partner Silvio Horta (Ugly Betty) have a very high-profile drama script in development at the network, and Vulture hears that it's one of three projects vying to fill what may be a fifth, and possibly final, drama pilot slot at Fox this development season. Also in contention: a retelling of the Wyatt Earp legend from Transformers dudes Alex Kurtzman and Roberto Orci and a medical drama from Drop Dead Diva creator Josh Berman. While this decision is hardly make-or-break for the top-rated Fox, how network chief Kevin Reilly settles will be intriguing, since there's a lot of politics involved with all three projects.
The Horta-penned, Lopez-produced hour is intriguing since a pickup will let Reilly accomplish one of his oft-stated goals at the network: introducing more cultural diversity into the network's prime-time lineup. The project, tentatively dubbed The Family Arias, revolves around three Latina sisters and their love lives. It would rep one of the few Hispanic-themed pilots to get orders in recent years, and would also fit in with Fox parent News Corp.'s recent emphasis on targeting the Hispanic community (the company is planning to launch the Spanish-language MundoFox this fall). While Reilly isn't in the business of developing for the new Spanish network, it's not hard to see MundoFox playing a role in marketing such a show. And while it's very unlikely Lopez would be a regular star on the show, she would certainly serve as a major publicity magnet for promoting it (particularly if she did a guest-starring stint on it).

Of course, there are compelling arguments in favor of the other contenders as well. The Wyatt Earp hour lets Fox have a contender in this year's Western sweepstakes, with CBS and NBC both already green-lighting Westerns to contend for slots on next season's schedules. Reilly has also been keen to get a Kurtzman-Orci project on the air at Fox, since the duo's two pilots from last year (Locke & Key and Exit Strategy) both failed to make the cut. As for the untitled Berman-produced hour, it's a medical drama about a mob doctor. Berman is a favorite among many Fox execs, and with House potentially ending this season, having a medical drama in play makes sense. Reilly's already green-lit drama pilots for next season include two spy shows, a legal drama, and a serial-killer thriller. Industry insiders expect a decision from Fox by the middle of next week, but caution that the development process is always volatile. Reilly could opt to not pick up any of these three projects (good news for Terra Nova!) or decide to push one or more to off-cycle development, which means the pilots would film this summer and contend for a spot on Fox's mid-season schedule. That process is what led to the network's new Kiefer Sutherland drama Touch. Stay tuned!