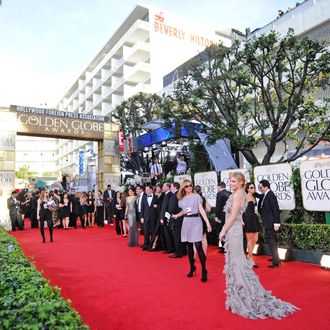 Photo: Jason Merritt/2011 Getty Images
At last, awards season is officially underway! It's always so polite of the scheduling gods to kick it off with the Golden Globes, where TV stars are actually allowed to breathe the same air as movie stars and every glass of wine is a generous pour. But before anyone gets their cocktail, they have to run the gauntlet of Ryan Seacrest and his cronies on the red carpet. Join us as we live-blog the shenanigans on E! – and cross your fingers that everyone makes it out alive. For the full array of fashion hits and misses, check the Vulture red-carpet slideshow, and follow @vulture on Twitter for live tweets of the telecast.
6:00 p.m.: And here we go. As always, we can't understand why E! isn't in HD. Don't we all want to see everyone's zits and wrinkles in high def? Seacrest's hair looks extra bouffant-y, though, so at least there's that. By the way, there are so few celebs there at the moment that Ryan is talking about Twitter, and whether Angelina and Brad are in their car or not. (THEY ARE.)
6:02 p.m.: Ricky Gervais hits Ryan's booth first. He looks surprisingly Rat Pack-sleek in a rust-colored suit and no tie. Naturally, they discuss whether or not he's planning to ruin anyone's lives tonight. While they chat, the E! cameras get Clooney, who is there insanely early for someone as famous as the Cloones. He must have promised Stacy Keibler that she'd get as much time on the red carpet as possible.
6:12 p.m: Ryan actually gets to talk to Clooney, which means that Clooney is really campaigning for those Oscars. Stacy Keibler looks…you know, fine. She's wearing a simple red column dress and really doesn't get to speak very much. On the red carpet, we get a glimpse of Octavia Spencer, who we think might look good, and Claire Danes, who looks freaking great in cream and black with a open back
6:14 p.m: YOU GUYS PIPER PERABO LOOKS CRAZY. We seriously might be able to see the entirety of her breasts through this unspeakable dishwater-tulle number. She makes the most ridiculous faces in the camera line. While we stare open-mouthed at her, Giuliana interviews Ariel Winter from Modern Family, who is adorable and age-appropriate in purple Dolce and Gabbana.
6:19 p.m: We just saw a blonde in a very dramatic blue and white dress, but we didn't see quite who - we think Sarah Michelle Gellar? – so of course instead of following her E! goes to Adam Levine. Penelope Ann Miller is in a pretty orangey-red dress that's a tad too tight at the top, and Sarah Paulson's hair looks great but that's about it – boring, boring beige. Amanda Peet is smiley in a white tiered thing that's okay, but also a tad "can I bring you some tortilla chips and $2 margaritas with that?"
6:23 p.m: Melissa McCarthy and her husband, Mr. "DENIM. SHAUN WHITE HOODIES and DENIM," chat up Ryan and we get a look at her dark green dress with gold v-neck. It's okay, but more importantly, it's much better than the purple thing she wore when she won the Emmy. Then E! cuts to Elle Macpherson in a stiff-looking cream thing zzz.
6:25 p.m. It WAS Sarah Michelle! The dress is a tie-dyed confection that's big and strapless, dark blue and white, and she looks kind of splendid in it. Or maybe we're just projecting because we're so happy to see her back on any red carpet, and on TV. But we do think, in life, Buffy damn well better go big or go home, and thank God she chose big.
6:28 p.m. Giuliana wonders if Diane Lane keeps getting younger. For once we find ourselves agreeing with Giuliana. She's got Jessica Chastain, who proclaims herself a HUGE FAN of Giuliana. Does she know it's not Julianna, as in Margulies? Anyway, Chastain's dress is a little snug, with white pearly details that look a wee like zits. The cut to Paula Patton in canary is a refreshing sorbet. Chastain deflects rumors about her starring in a Princess Diana biopic. Not sure we would want that part, either. That is beloved ground to tread.
6:30 p.m. Nicole Richie's dress is super shiny silver and kind of metallic. Interesting to see her getting away from her flowy hippie chic aesthetic, but we can't tell if the gown actually works. Her face works, though. And isn't that always the biggest relief? Like, if that part is okay, then everything is going to be FINE. Nicole does the deflecting now, claiming she and J.Simp are not feuding on their new fashion show and that they have been friends forever, which… that may have been a bridge too far for us to believe.
6:31 p.m. While the insufferable Ross Mathews yaps with Kelly O, we get a snippet of Shailene Woodley, looking demure in a shimmery and potentially pale lilac strapless gown that's quite delicate and pretty. However, Ross did just get a laugh out of us when they put Piper Perabo in the 360 Glam Cam and his comment is, "Oh. Look at that." Look indeed. That is exactly what she wants you to do.
6:33 p.m. We are a tad scared Shailene's nipple is about to pop out and hit Seacrest in the face. It's a Marchesa dress, which seems exactly right and expected, but it's not as fussy and crazy as their stuff has been lately. We suspect that if you had to imagine a shimmery gown for her, you would imagine exactly this one.
6:35 p.m. Keibler's orangey-red dress has a giant diagonal bow along her back, although it's not as bad as that makes it sound. Elle Macpherson is gliding around on a tulle cloud, and Rooney Mara – we think – is in black? We'll find out; first, Sarah Michelle, who is in Monique Lhuillier. She says her two-year old picked out the gown, bag, and shoes. She's totally charming and really animated about how daughter. She also drops the tidbit that Freddie Prinze Jr. was once Mr. Golden Globe "back when this was in black and white." Ha! She says she and Prinze don't do this stuff together because it constitutes a terrible date night, and says their better idea of one is IHOP. That must be true, because they're coming up on twelve years together. Damn.
6:37 p.m. Diane Lane's gown is gold, nipped in at the waist, and has sleeves. She is seriously amazing – she will probably look exactly this age ten years from now. If she's getting help, it is the best help. E! is trying desperately to get Rooney Mara on camera, but they can barely find her, so instead we get Gerard Butler and his lamentable hair. The fans are screaming for him.
6:39 p.m. Seacrest says Sofia Vergara is doing two-a-days in the gym to get ready for this. Really? If SOFIA freaking VERGARA feels like she needs to exercise twice a day, what hope do any of us have in the world? We give up. Bring us some Ho-Hos.
6:42 p.m Octavia Spencer is killing it in lilac with a modified beehive.  She looks extremely pretty. We then bop over to Freida Pinto with Ryan, who looks beautiful, because she is beautiful, in a very simple and kind of great dark teal Prada ballgown. Rooney Mara, on the other hand, looks kind of grim in black – as usual – in the background.
6:46 p.m Sofia Vergara deserves a medal for the fact that her red carpet wear always, always, always fits. She welcomes Julie Bowen onto the platform with Ryan. Julie looks very retro – and kind of Betty Draper – in a delicate peach gown with tiny bejeweled sleeves. This is the polar opposite of what she usually wears, and it might be a bit young for her. "It's a bit girly for me," she admits. 
6:49 p.m. We're scared that this Ryan-Rooney Mara interview is going to be awkward. She is wearing exactly what you would expect her to be wearing: it's black, it's slightly goth, it's somewhat scary, and she claims it's comfortable and that is probably a lie. Ryan really had to work to get anything out of her – she seemed nervous and a little freaked out.
6:55 p.m. Zooey and Emily Deschanel seem to be walking the red carpet together, which is cute. Zooey's green and black custom Prada looks interesting, but we can't get a really good look at her.  Jesse Tyler Ferguson, on the other hand, is giving us a very good look at his three-piece velvet suit. He sort of looks like he ought to be conducting a philharmonic in the 19th century somewhere. In the background, we catch a glimpse of Charlize Theron, who is wearing nude AGAIN, and no lipstick.
6:57 p.m. Viola Davis has been looking great lately, but we're not sure if this dress – a draped, Grecian rust number – is exactly our favorite. On the platform, Ryan asks Matthew Morrison about "revolutionary changes" to Glee and Matthew clearly has no idea what he's talking about, which is kind of hilarious. He's all, "I like to….think we are…always revolutionary?" Nice save, Matt.
7:00 p.m. Is Zooey Dechanel wearing what looks like a wig? She has the best hair to begin with. We think we might like her custom Prada. It's strangely bunchy on her hip, for a custom gown, but the bodice is interesting and she's got little tuxedos on her nails. We think that is actually the dictionary definition of "adorkable."
7:02 p.m. Jane Lynch looks nice in navy blue, but Jane Lynch almost always looks nice. Up in the air, Ross and Kelly are squealing over the fact that Brad Pitt opened Angelina's car door. LIKE A HUMAN BEING, YOU GUYS.  Let's give him a medal!
7:04 p.m. Berenice Bejo of The Artist is chatting up Ryan. She looks lovely and about ten years younger than she really is. Eventually, we finally get a shot of Brangelina. From what we can tell, her dress is nude/beige/blush/cream with red accents, but we haven't seen a full shot of it yet. Move over, civilians!
7:09 p.m. Jonah Hill brought his sister. Aw. He says he's never been nominated for anything before, which is sort of sweet. E! cuts to Naya Rivera in grey, and then finds Michelle Williams in purple, which we are excited to see in closer detail. But first: Charlize, in either nude or baby pink or something, with a huge waterfall around her hip. It's Dior couture, which makes sense, because we hear she j'adores Dior. (And yes, we know that's not proper French, but far be it from us to sacrifice a joke for accuracy.) Charlize needs makeup tonight, though – it's too monochrome. Ditto Kate Beckinsale in another princessy non-color.
7:12 p.m. Salma Hayek pops up to double-kiss Charlize. What she's saying makes no sense, so we focus on her disco glittery black and gold gown, which is very art deco. We approve. We are a bit more bored of Mary J. Blige's glittery halter gown with the feathery bottom – feels like we've seen it before. A lot.
7:14 p.m. SWINTON ALERT. We just saw hair, but it was enough: tall, fluffy, magnificent. Please can the gown somehow be the same. Giuliana is mired in a dull interview with Mark Salling. Don't these people KNOW that Tilda Swinton is nearby?
7:16 p.m. Julianne Moore's head looks fantastic, but we're concerned about all the froofery happening on the gown. So often she picks froof that ends up overwhelming her. Meanwhile, we are getting ever larger peeks at Angie's dress, and the purse matches the red neckline. But Angie dodges Ryan; he's just getting Brad Pitt. Ooh, sneaky, Angie.
7:18 p.m. Wait, there she is! And she almost flashed us. Dramatic. She looks regal again, finally, and the lipstick is perfect. The E! lighting is making her hair look silvery gray along her temples, in a way that we are pretty certain it does not in real life, because as much as Angelina may like to keep it relaxed sometimes, there is no way she would show up in that dress on this night with a hint of age on her head. Unless she just wants her coif to match Brad's, but we suspect it's just bad tech. Since Ryan didn't have to chase after them screaming, only to come up empty, this must count as a prodigious victory for E!
7:25 p.m. Michelle Williams is with Ryan. She's in Jason Wu, in a very pretty and demure burnt velvet purple number. She is also wearing a headband, which we like in theory but which feels superfluous.  After wrapping up with her, Ryan tosses to Giuliana, who is breaking the news story that the zipper on Sarah Hyland's vintage Dolce & Gabbana's dress broke. Just now. On the red carpet. And Giuliana's team had to sew her back into her dress. She is very good-natured about it, considering.
7:28 p.m.  Mila Kunis, who looked so amazing all last awards season, looks totally boring in a plain black Dior.  Maybe, now that no one is going to be asking her about making out with Natalie Portman or turning down Justin Timberlake, she's just excited to get to blend into the background and have her wine unmolested.
7:30 p.m.:  Lea Michele's dress looks like it might be moldy, but we can't get a great look at it, as usual. Speaking of Natalie Portman, she also just showed up, in a pink-red-red-pink number that looks similarly fine.
7:32 p.m Oh god, the celebs are coming fast and furious now. Kidman! Winslet! Witherspoon! Hang on a hot second and let us get a look at their outfits! (Actually, you can get a good look at them in the Vulture slideshow.) We get the best look at Reese, who has huge hair and a Jessica Rabbit-style Zac Posen red number on. This is probably the sexiest Reese has ever looked. She is bubbly and diplomatic when asked about what it was like to work with Chelsea Handler. "It was a crazy couple of months," she hedged. We think that means, "she drove me nuts."
7:38 p.m. Dianna Agron is wearing an orange-y dress covered in laser-cut swans. She sort of burbles inarticulately about who designed it and never manages to get the whole phrase out.
7:39 p.m Lea Michele's dress looks like it's growing penicillin on her breasts. On the other hand, nothing is growing on Emma Stone, who is wearing a sort of burgandy Lanvin. "It has an EAGLE on it," she says.
7:41 p.m MADONNA and Andrea Riseborough come talk to Ryan, and Andrea looks so insane that we basically aren't even looking at Madge – who, we must say, is looking remarkably refreshed, although one of her lids seems to be drifting off her face. Madge is in a very good mood though, flirting with Ryan about her Super Bowl plans. We forgot she was performing at the Super Bowl, so for a moment we hoped she was going to share her artichoke dip recipe. She is also wearing one fingerless glove, which we'd give her a hard time about, but at least she is basically the originator of the lace fingerless glove.
7:43 p.m. Channing Tatum and Jenna Dewan are chatting up Giuliana; she is very pretty in teal. They seem to still actually really like each other, which is always refreshing.
7:45 p.m. Corey Monteith is so much cuter on in real life than he is as Finn. Also cute: Tina Fey's hair, which is very 60s and bouncy.  Ryan talks to Jessica Alba, who is in ANOTHER sort of greige gown, this one from Gucci. We're looking around behind her to get another glimpse of the other Jessica – Biel – who looks boring and possibly engagement-ring-less.
7:51 p.m. Claire Danes is with Ryan. She looks swell in J Mendel, although perhaps she should have chosen a red lip OR a smokey eye. Jodie Foster comes running in late, with a very chic bob and an understated but glamorous blue number. The fact that we haven't read a single good review of Carnage and yet both Jodie and Kate Winslet got nominations for it makes us believe more than ever that the HFPA likes to just nominate super famous people in the hopes they will show up.
7:57 p.m: And that's it for the red carpet. Thanks for hanging out with us, and make sure you check out the Vulture slideshow of all the looks.  Vulture will be live-blogging the ceremony, so pop over there and enjoy. (Also: Vulture will be live-tweeting the ceremony, so make sure you're following them @Vulture, too.) See you next time!
Related:
Fug Girls: The Best and Worst Outfits at the 2012 Golden Globes
Ricky Gervais Goes Soft, and Other Observations from the Golden Globes
The Best Frozen Moments from the Golden Globes
See All the Red-Carpet Looks From the 2012 Golden Globes
The Golden Globes: Your Complete 2012 Winners List
Vulture Live-Blogs the Golden Globes