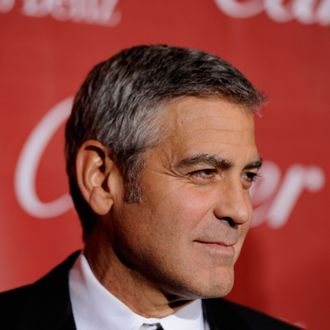 Photo: Frazer Harrison/2012 Getty Images
George Clooney's next directorial effort will center around art historians who joined World War II's Normandy beach invasion to save major artworks stolen by Adolf Hitler. "Hitler was an art fanatic, and he stashed masterpieces everywhere. He hid 27 Rembrants in a coffin," Clooney said at the Palm Springs International Film Festival on Saturday.
Clooney will adapt Robert Edsel's 2009 book, The Monuments Men, with co-producer Grant Heslov, the L.A. Times reports; he'll also co-star, Ides of March-style. "It's an amazing story, and Grant and I are already thinking about how great the casting can be," Clooney said. "And there's also a great love story."
The tale's real-life protagonists were eleven non-military art experts, including guys from the Met, Harvard, and the New York City Ballet. The L.A. Times writes that the team was untrained for combat, came up against live fire, and suffered two casualties. So, no Ocean's Eleven in WWII France jokes, please. Serious stuff.