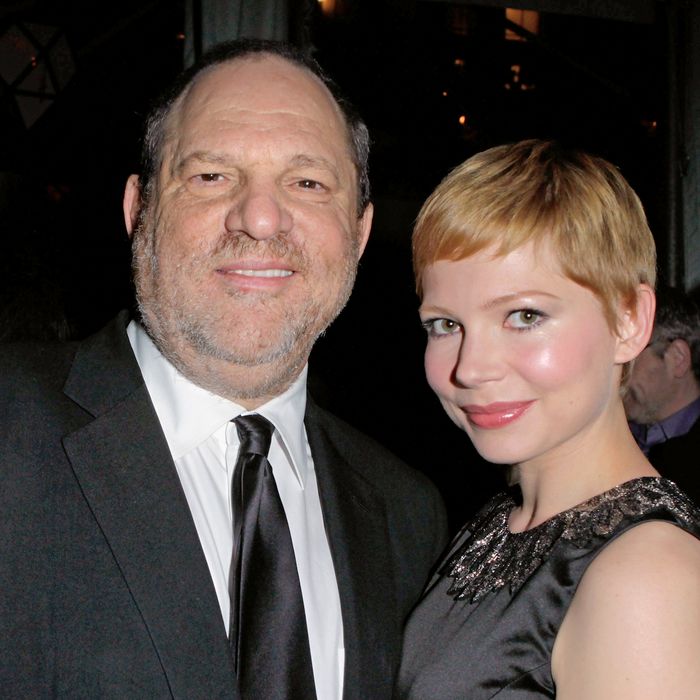 LOS ANGELES, CA - JANUARY 11: Harvey Weinstein poses with actress Michelle Williams at the party hosted by the Weinstein Company and Audi to celebrate awards season at Chateau Marmont on January 11, 2012 in Los Angeles, California. (Photo by Jeff Vespa/Getty Images for Audi)
Photo: Jeff Vespa/2012 Jeff Vespa
The Golden Globes is all about big stars coming together to celebrate the best entertainment of the year. Kidding. It's about the parties. Now that you've analyzed the fashion, the freeze-framed faces, and the occasionally funny Ricky Gervais bits, it's time to dissect what went down over the course of the fiesta-filled weekend. Though we didn't catch Angie rehearsing Ha-za-na-VEE-shooz in front of a bathroom mirror or walk in on Fassbender playing golf, as you'll see from our booze-filled breakdown of Friday through Sunday's bashes, there was still some fly-on-the-wall fun to be had, starring January Jones, Harvey Weinstein, Melissa McCarthy, Judd Apatow, P. Diddy (yeah, why not?), and more!
Friday, January 13: W Magazine's pre–Golden Globes party

8:23 p.m. Among the early arrivals at the Chateau Marmont: Mike White (Enlightened) and Emmy Rossum (Shameless), who is wearing sky-high heels the sparkly shade of Dorothy's ruby slippers.

8:40 p.m. A double dose of British beauty as Orlando Bloom and newly booked Star Trek 2 star Alice Eve walk into the penthouse (though not together).

8:45 p.m. A low-key Tom Cruise, sans his usual accessories (Katie Holmes, an entourage, and a megawatt grin), holds court in the corner like he's just chillin' at a house party.

8:46 p.m. Tilda Swinton arrives, a vision in draped white. She's barely even able to enter the party, as she's swarmed by partygoers shaking her hand and professing their unworthiness.

8:51 p.m. A petite Ryan Kwanten arrives and makes a beeline for the balcony.

8:53 p.m. Charlize Theron chats up Mike White, which seems like a perfect match, given their mutual love of outsider anti-heroines.

9:14 p.m. Last awards season, Armie Hammer was frequently swarmed at parties simply because of his sheer height — it's easy to spot a handsome movie star when he's head and shoulders above the crowd. This weekend, Chris Hemsworth isn't Golden Globe–nominated, but the strapping, six-foot-three actor is similarly mobbed.

9:40 p.m. There's a lot of hunky star wattage at this party, yet who are the girls swooning over most? Johnny Knoxville.

9:43 p.m. Kirsten Dunst (in a cute jacket) chats with Orlando Bloom. Elizabethtown reunion!

10:15: p.m. "Rodge?" a woman shouts across the crowd. "Rach?" a man calls back. Yup, it's new mom Rachel Zoe and husband Rodger Berman.

10:25 p.m. Lindsay Lohan arrives, looking very blonde and relatively put-together.

11:08 p.m. Pedro Almodóvar arrives late but stays for a while, greeting well-wishers, while John Mayer pops in and out.

11:20 p.m. In a long black coat and floppy fedora, Jared Leto looks like a Goth scarecrow.


Saturday, January 14: BAFTA Tea Party and Art of Elysium 5th Annual Heaven Gala

2:20 p.m. Michelle Williams is still working an intense Mia Farrow look, in a simple black-and-white Victoria Beckham sheath and close-cropped strawberry-blonde hair.

2:44 p.m. Lily from Modern Family is here! No doubt, she's the youngest celebrity to be invited to a Globes party until Blue Ivy Carter learns to walk.

2:56 p.m. Ben Kingsley exits with his wife, who's matched a black cast on her right leg with a black boot on her left.

3:26 p.m. Ariel Winter and Nolan Gould from Modern Family — the youngest Dunphy kids — approach Leonardo DiCaprio and ask for a picture.

3:46 p.m. The floodgates have opened! Now EVERYBODY wants their picture taken with DiCaprio, and it's not really that kind of event. Still, concentric circles form around the agreeable Titanic star, who politely chats up every fan and poses for iPhone photos.

3:52 p.m. Leo high-fives a blushing preteen girl.

4:03 p.m. War Horse's Jeremy Irvine is chatting up handsome The Borgias star Francois Arnaud. The heads of all gays and girls in the room have turned.

4:04 p.m. A somewhat underdressed Emily Watson is in conversation with Marie Claire's Joanna Coles.

4:11 p.m. Dustin Lance Black and Jesse Tyler Ferguson enjoy a conversation restricted only to famous gay men with three names.

4:14 p.m. Emily Watson pulls Jeremy Irvine over to talk to Harvey Weinstein and an amused Meryl Streep.

4:24 p.m. Andy Serkis tries to keep up a conversation with partygoers while his young son tugs on his coat, ready to go.

4:26 p.m. Meryl Streep and Leonardo DiCaprio embrace. Marvin's Room reunion!
6:50 p.m. Elijah Wood is the first to arrive at the Art of Elysium gala — he's the night's honoree, but he tells us he won't be showing up for the Globes or its after-parties this year. "I don't make a meal of the weekend," he tells us. "I like to keep it simple."
7:23 p.m. Lovey-dovey couple David Arquette and Christina McLarty, who made their first joint red carpet appearance at the gala, arrive at the shindig ready to shake a leg. "We took a hip-hop class [together]," Arquette says. "It's really how the spirit lets loose. If you can dance with your loved one, it will definitely keep the sparks flying."
7:32 p.m. Rose McGowan grabs Topher Grace's face and plants a big, wet, lipstick-y kiss on his cheek. Grace turns red and laughs while trying to wipe off the evidence with his palm. McGowan's already moved on, telling us the trick to getting through awards season is "Champagne, darling, Champagne."
7:59 p.m. Amber Heard, reminiscent of Jessica Rabbit in her tight, golden gown, poses for photographers while Glee's Matthew Morrison is struggling to keep his eyeballs in their sockets. With no desire to follow Heard's sexy act, he mock screams "Aaaaaargh!" and runs past press inside the party.  
8:16 p.m. Busy Philipps approaches purplish-gray-haired Kelly Osborne to tell her, "I tried to get my hair dyed that color last year, but my hairdresser's like, 'Busy, you cannot dye your hair grey.' But I love it!"
8:27 p.m. "Can I tell you what I did tonight?" Jamie King asks us, looking genuinely mortified. "I literally cut the straps off my Valentino dress. I thought that they were the hanger things. And I was like 'clip, clip, clip, clip', and then I was like, 'Aaaaaah!' I had to hand-sew them back on in the car. Look! This one's safety pinned on."
8:30 p.m. At the pre-gala cocktail party, January Jones, holding a glass of Beau Joie Champagne in one hand, shows Topher Grace photos of her baby on her Blackberry.
8:35 p.m. Jones and Grace are joined by Rashida Jones and Aziz Ansari, and they all cross Union Station together, to get from the cocktail party to the dinner (taking place on the other side of the train station's main lobby). The station is full of normal folk just waiting to catch a train, and this prompts Jones to turn to Grace and say, "It's so weird that it's open to the public."
9:15 p.m. Lucy Lawless shares details of her January detox plan (no caffeine, booze, or sausages) with Ringer's Ioan Gruffudd and his wife Alice Evans. Somewhere in the world, Gwyneth Paltrow's ears are ringing.
10:14 p.m. Joe Manganiello spends a significant amount of time on his iPhone — despite sharing a table with True Blood co-star Sam Trammell. He stares at his screen and chuckles. Did his other co-star, Magic Mike's Matt Bomer, just sext him?! Let's pretend.
10:35 p.m. Elijah Wood accepts the Spirit of Elysium Award, telling the audience he's "truly overwhelmed." Yes, by a three-day weekend.
11:12 p.m. Newlyweds Eva Amurri and Kyle Martino slow dance between two tables to a jazz rendition of "Somewhere Over the Rainbow." Martino dips her at the end of the song; bystanders swoon.
11:23 p.m. One Tree Hill star Sophia Bush asks Joe Manganiello the most personal question of the night: "Are you iPod or Blackberry?" — as they exchange numbers. We're guessing she meant iPhone, and we believe Matt Bomer knows the answer.
11:28 p.m. At the virtually empty after-party, Elijah Wood stands in the middle of Union Station's smoke-filled hallway. It's creepy, and the ghostly atmosphere signals to the few that remain that it's time to go home. Except for David Arquette, who's dead set on enjoying his Fatburger.
Sunday, January 15: Golden Globes red carpet and after-parties hosted by HBO and the Weinstein Company

3:12 p.m. Piper Perabo has an ear-to-ear grin as she makes her way down the carpet. We're not too sure she'll be grinning after she realizes someone spilled red juice (our best guess) on the lower back of her dress. And we were right.
3:34 p.m. Ricky Gervais is heading for the entrance with his wife Jane Fallon, but stops to grab a glass of Champagne off a waiter's tray first. He may have lost the weight, but he's still got his tolerance!
3:47 p.m. Photographers swarm Uggie, the dog from The Artist. When a reporter bends down to ask him a question, he doesn't respond. He's a silent film star — what does she expect?
4:05 p.m. Melissa McCarthy approaches Missi Pyle with a one-two punch in the stomach before giving her a hug and complimenting her dress. McCarthy: Friends with everyone! 
4:16 p.m. Eric Stonestreet schools us in an award-win don't: "Don't act too surprised if you win," he says. "It'd be different if you weren't nominated and then won a Golden Globe. But you have a one-in-five chance." Kate Winslet must have been listening.
4:30p.m. Queen of R&B Mary J. Blige hears her name and makes her way over to us — but, wait! Her publicist grabs her by the arm and says they're out of time. Blige turns to say she's sorry, but we know who really wears the crown.
4:41 p.m. An incredibly enthusiastic Jimmy Fallon startles Octavia Spencer by running up to her for a hug. He's got so much energy, that guy.
4:42 p.m. Melanie Griffith is visibly annoyed by a reporter's inane question: Does your husband (Antonio Banderas) think you look beautiful tonight? "Yes, he's complimented me because he is a good person." Banderas steps in for brownie points: "Of course I do. Can you imagine if I said no?" Let's.
4:55 p.m. A gentleman announces that the show will begin in five minutes, and Reese Witherspoon, Tim Robbins, Busy Phillips, Michelle Williams, Angelina Jolie, Brad Pitt, and Leonardo DiCaprio rush by. Madonna, the very last person we see head in, says playfully, "I'm walking, I'm walking." Congratulations, but there's not a Golden Globe for that.
8:25 p.m. Post-ceremony, the Hilton Hotel is bustling with after-parties. Outside of HBO's event, we bump into Lena Dunham, creator and star of the upcoming Judd Apatow–produced dramedy Girls. We almost don't recognize her — she's texting with her head down — and when we tell her this, she replies dryly, "Just like my generation: self-involved."  

8:35 p.m. Inside the party, the first person we see is Ricky Gervais. He's still in the tux he wore for the show and is making a beeline for Time Warner CEO Jeff Bewkes. The two are huddled deep in conversation for at least ten minutes. 
8:40 p.m. We tell Downton Abbey's Elizabeth McGovern, who is sitting at a table with Julianne Moore and Jane Fonda, that we feel guilty for not being home to watch her show. "Yes! You should be doing that!" When we turn to Fonda and ask her what she thought of the show, she avoids eye contact and gives a bland answer. Then, "I wrote a really good book called Prime Time that everyone over 40 should read. Bye." We take the hint.
9:15 p.m. A sudden outburst of rain forces everyone sitting on the open patio inside. Women run as if they'll melt, and considering the collection of fake hair and makeup, they're probably right.
9:30 p.m. Judd Apatow is schmoozing with HBO programming chief Mike Lombardo. When we stop by, Apatow demands to know how the Girls panel ranked at the TCAs. We tell him it was a highlight of the tour, but before we can continue the conversation, he sees Globe winner Claire Danes and stops our conversation to congratulate her. We don't blame him.  
9:47 p.m. At the Weinstein after-party, Jason Statham and his willowy model-actress girlfriend Rosie Huntington-Whiteley swoosh into the lobby. Jason's brow is furrowed, Rosie's red lips are traffic-stopping. But no one is paying much attention …
9:48 p.m … until Leonardo DiCaprio rolls in with a small entourage and the lobby erupts into frantic cries of "Leo! Leo!" He's smiling despite losing out to George Clooney in the Best Actor category.
10 p.m. Back at the HBO party, Jesse Tyler Ferguson told us he had a good time at the show "because Sofia was passing around a flask of tequila." (Does Pepsi know?)
10:03 p.m. P. Diddy and his entourage cause a Red Sea–like parting as they weave their way toward the Weinstein party's back tent. Diddy crashes into Paris and Nicky Hilton, whose great-grandfather Conrad built the hotel they are partying in. Paris and Diddy embrace warmly, prompting a flurry of iPhone camera flashes.
10:10 p.m. Once rumored couple Diddy and Cameron Diaz chat up Lawrence Bender and Harvey Weinstein. Weinstein looks positively giddy. Are those Meryl Streep's glasses in his pocket, or is he just happy she won?
10:17 p.m. "I want Kelsey to say hi to Harvey," we overhear a Kelsey Grammer employee say. Seconds later, a bearded Grammer emerges in front of Weinstein.
10:25 p.m. Rob Lowe is feeding ravenously while seated at a table in the back tent. He pauses for breath and drapes an arm affectionately around his wife, makeup artist Sheryl Berkoff.
10:52 p.m. A long-haired Gerard Butler has been standing all night, knee-deep in women. He doesn't seem to mind. He poses for a photo holding a sign that says "Gerard Butler" in front of his face — in case the girls need some reminding? "I could do this all day," he announces.
10:54 p.m. A less frown-y Jason Statham gets his groove on, hopping around to the Human League's "Don't You Want Me." He's trying to get his girlfriend Rosie off the couch. "Come on, darling, won't you dance?" But she's too engrossed in conversation with Weinstein's wife, fashion designer Georgina Chapman.
10:58 p.m. Lindsay Lohan and stylist Rachel Zoe collide in the back tent and embrace lovingly. "How are you, sweetie?" Zoe asks.
11:11 p.m. Weinstein and his wife look like they're about to leave. But not before Weinstein — who's hugged a lot of people tonight, including Jason Statham — goes in for one more embrace, this time with Jessica Alba. No hard feelings about Machete, then!
11:15 p.m. We're surprised to see Aziz Ansari at the HBO party, since he didn't attend the ceremony itself. "I was home illegally downloading Homeland," he tells us. "I hear it's so good and I don't have Showtime."
11:36 p.m. Back at Weinstein's bash, Kim Kardashian is standing alone looking seriously bummed. Maybe now is a good time for her to find Paris Hilton and stage a reconciliation? Better yet, go home — and good night!
Related:
Fug Girls: The Best and Worst Outfits at the 2012 Golden Globes
The Best Frozen Moments from the Golden Globes
See All the Red-Carpet Looks From the 2012 Golden Globes
The Golden Globes: Your Complete 2012 Winners List
Vulture Live-Blogs the Golden Globes
The Fug Girls Live-Blog the 2012 Golden Globes Red Carpet