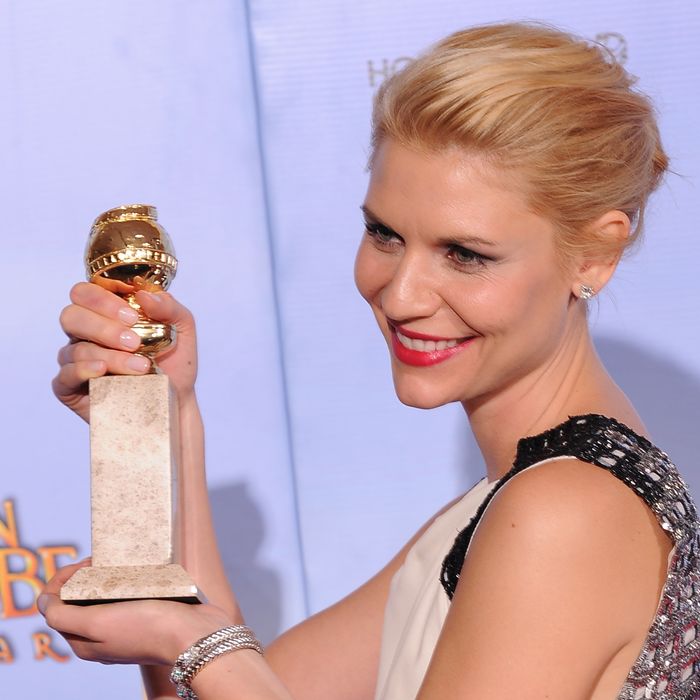 Photo: ROBYN BECK/2012 AFP
In case you missed Vulture's liveblog, live-Tweeting, the actual broadcast, or if you just enjoy your information in convenient list form, here are the winners from the 2012 Golden Globe Awards.  All of them! In one place.
Best Supporting Actor in a Movie
Christopher Plummer, Beginners
Best Actress in a TV Series, Comedy or Musical
Laura Dern, Enlightened
Best Miniseries or TV Movie
Downton Abbey
Best Actress in a Minieeries or TV movie
Kate Winslet, Mildred Pearce
Best Actor in a TV Series, Drama
Kelsey Grammer, Boss
Best TV Series, Drama
Homeland
Best Original Score
Ludovic Bource, The Artist
Best Original Song
"Masterpiece," W.E.
Best Actor in a Miniseries or TV Movie
Idris Elba, Luther
Best Actress in a Movie, Musical or Comedy
Michelle Williams, My Week with Marilyn
Best Supporting Actor in a TV Series, Miniseries, or TV Movie
Peter Dinklage, Game of Thrones
Best Animated Feature Film
The Adventures of Tintin
Best Screenplay
Woody Allen, Midnight in Paris
Best Supporting Actress in a TV Series, Miniseries, or TV Movie
Jessica Lange, American Horror Story
Best Foreign Movie
A Separation
Best Actress in a TV Series, Drama
Claire Danes, Homeland
Best Actor in a TV Series, Comedy or Musical
Matt LeBlanc, Episodes
Best Supporting Actress in a Movie, Musical or Comedy
Octavia Spencer, The Help
Best Director
Martin Scorsese, Hugo
Best TV Series, Comedy or Musical
Modern Family
Best Actor in a Movie, Comedy or Musical
Jean Dujardin, The Artist
Best Actress in a Movie, Drama
Meryl Streep, The Iron Lady
Best Movie, Comedy or Musical
The Artist
Best Actor in a Movie, Drama
George Clooney, The Descendants
Best Movie, Drama
The Descendants
Related: The Vulture Awards Tracker
The Obsessive Guide to Oscars 2012