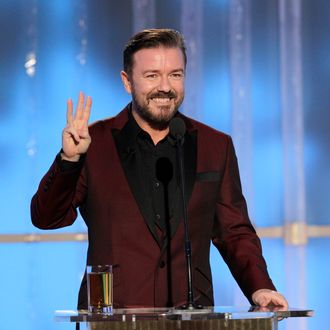 Despite the absence of any big blockbusters and a relatively tame performance from host Ricky Gervais, Sunday night's Golden Globes did just fine in the Nielsen ratings. Per time-zone-adjusted Nielsen data supplied by NBC, the kudos attracted 16.8 million viewers, putting it roughly in line with 2011's tune-in of 17 million. In the advertiser-beloved demo group of viewers under 50, the Globes scored a 5.0 rating last night, down about 4 percent from last year (5.2 rating). Another bit of good news: The Globes outdrew this season's Emmy Awards and ABC's American Music Awards and CMA Awards, and stands as the top kudocast of the season (at least until next month's broadcast of the Oscars). While the Globes did well for NBC, other programs also drew an audience Sunday.
Fox took advantage of a big NFL overrun Sunday to score some solid sampling for its animated adaptation of Napoleon Dynamite. Just how big won't be clear until Fox releases final Nielsen data, but the network is guesstimating the show, airing after The Simpsons at approximately 8:45 p.m., debuted to around a 4.5 rating with folks under 50, making it one of the three biggest comedy premieres this season in that demo. But it's clear a lot of that audience was borrowed: A second original episode airing an hour later looks to have lost about 40 percent of the first broadcast's audience. Whatever the final numbers, Fox's main goal debuting Napoleon this week was to simply get the show in front of as many eyeballs as possible. Whether those viewers liked what they saw will become apparent in a couple of weeks.

Elsewhere, ABC's Once Upon a Time held up fairly well Sunday against tough competition (including Fox's massive NFL overrun), falling about 10 percent in the key demo versus last week's score. CBS took a bigger hit, however. Undercover Boss averaged a 3.0 in the 18 to 49 demo, down 21 percent from its season premiere in the fall of 2010, but still a very good number opposite blockbuster programming. The Good Wife, however, fell to a 1.9 (down 30 percent from last week) and tied its series low.