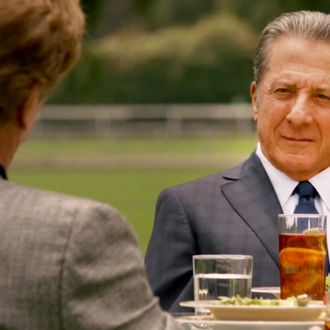 HBO has a crowded slate of programming rolling out of the next few months, which made for a jam-packed morning Friday at its portion of the semiannual TV Critics Association press tour. Stopping by over three hours: Ricky Gervais (touting Life's Too Short), Lena Dunham and Judd Apatow (together on new comedy Girls); Julia Louis-Dreyfus (supporting new comedy Veep); Julianne Moore and Woody Harrelson (for the political thriller Game Change); Nicole Kidman and Clive Owen (Hemingway & Gellhorn, which is a romance and not a buddy cop movie); and Dustin Hoffman and Nick Nolte (the stars of Michael Mann and David Milch's Luck). You'll be hearing plenty about most of these projects over the next four months, but here's a recap of some of the more interesting things said by those in attendance.
Life's Too Short
Warwick Davis (Willow) is at the center of this latest Gervais and Stephen Merhcant mockumentary, which, despite its title, isn't a riff on being diminutive. "It isn't half an hour of 'Isn't it funny that he's so short?" Gervais said. "There's a difference between a show that exploits and a show that ridicules exploitation. We're firmly the latter." Instead, the show is more focused on our culture's obsession with fame, which Gervais says "these days is much more aggressive. It's rife." In the age of reality TV, "There's no shame in anything. And you can't exaggerate it. You can't do something that's so ridiculous it isn't happening in Hollywood. It's literally impossible."
Veep
Louis-Dreyfus said there are elements of the political comedy that are improvised, but that most of the show is heavily scripted by creator Armando Iannuci (who exec produces with New York Magazine's Frank Rich). The show will try to be as realistic as possible, with all of the cast meeting with their D.C. counterparts. Louis-Dreyfus said she met with "several" vice-presidents but declined to say which ones. Meanwhile, don't ever expect to see POTUS on Veep. "What makes [the vice presidency] so potentially funny for me is you're … so close to power and yet so removed."
Girls
Apatow says if you find the characters on the show a tad grating from time to time, that's sort of the point. "It's okay to be annoyed by them," he said, explaining the show is about "every disaster before you figure out your life." Dunham hasn't had to spend too many years finding herself, though she did recall working at a baby clothing store pre–Tiny Furniture and getting "excited that I got free cookies in the afternoon." She said the success of Tiny far surpassed her expectations: "My fantasy was that it would play a small theater in Brooklyn for a week. And that I would get a new boyfriend."
Game Change
Woody Harrelson, not surprisingly, found playing a Republican slightly difficult. "I'm not really a Republican or a Democrat," Harrelson said. "I'm more of an anarchist." Moore, meanwhile, said she did tons of research before diving into the role of Palin, including watching the former governor's reality show. In the latter role, at least, Moore found Palin "adorable." Move over, Zooey Deschanel.
Hemingway & Gellhorn
The movie, debuting in May, chronicles the torrid love affair between the two title characters. How torrid? Hemingway and Martha Gellhorn were "two people who [made] love through a building collapsing. That says something about a couple."
Luck
When asked why he decided to do TV, Nolte said simply, "70." Which prompted Hoffman to respond, "Do you understand all the answers to your questions?" One reporter tried to delicately ask Hoffman about his rep for being "difficult," to which Hoffman wasted no time replying, "You can say 'a prick.'" Hoffman was actually effusive in his praise for HBO and the way production of Luck was handled. "There's no reason for me to butter up HBO," he said. "But I have not had this experience before. You can't do your best work in the [film] studio system. They buck heads with people they shouldn't be bucking heads with. With HBO, there is no committee, no meetings. I thought it would be like making movies on cocaine. It was the opposite of that."