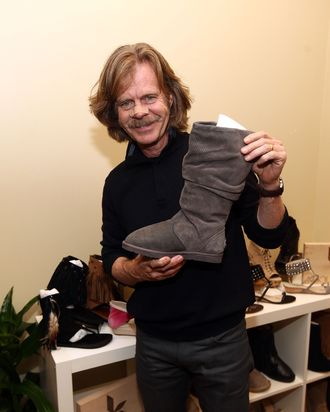 William H. Macy Got Kari Feinstein Boots!
Photo: Barry Brecheisen/Getty Images for Kari Feinstein's Style Lounge
At Sundance last week, Emma Roberts and William H. Macy walked out of the Gateway Center with leather jackets retailing between $595 and $695. Others got gift certificates for Apple TVs and iPads. Mary J. Blige picked up a $250 puffy jacket from Sean John while Andie MacDowell grabbed herself $200 Matt Bernson booties.
This is, actually, normal: On average, a regular red-carpet walker will receive about $100,000 in free goods and services annually, some in all-gratis pop-up shops and some unasked-for in the mail. The No. 1 freebie is apparel, from brands like Calvin Klein, Burberry, and John Varvatos. (Louis Vuitton is an exception: They won't ever gift or even discount.) Then, consumer electronics: laptops and flat-screens. Celebs can afford to buy a new car every season but are often given free long-term leases from manufacturers like General Motors and Audi.
 
The minute any celebrity has a baby, she is targeted by diaper companies and stroller manufacturers. And it doesn't stop when the kids start walking: When Tom Cruise threw a 17th-birthday party for his son Connor at the Staples Center, the event was sponsored, and Connor was showered with gifts, including cars. Even vacations get paid for. Resorts like the One & Only chain and Atlantis in the Bahamas will foot the bill for a celeb and entourage. At the Golden Globes, Air Pacific handed presenters like Johnny Depp and Jake Gyllenhaal two round-trip tickets to Fiji, as well as accommodations at a five-star resort. Total value: around $15,000.

This post comes from this week's special issue of New York Magazine, which breaks down all the windfalls, paydays and freebies of the celebrity economy.