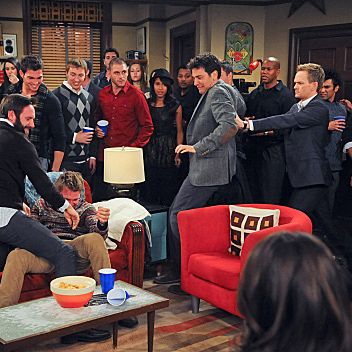 Maybe we're speaking strictly from the perspective of recapper here, but did this episode need to exist? And, more important, did it need to air on what was technically a holiday, CBS? Looks like creators Bays and Thomas were just as lazy as we felt: "Tailgate" recycled memorable material from older episodes for this completely forgettable one, at times playing on emotional subplots of yore to mawkish ends. Having Marshall narrate — to his late father, from his grave site — the story of how the gang rang in 2012 turned out to be totally manipulative, which might not have been the case if the story itself wasn't so hastily threaded together.
When MacLaren's is too crowded and overpriced, Ted and Barney decide to open Puzzles, their randomly conceived bar from season four's "Three Days of Snow" — a plus for us since we don't let too many recaps pass without raving about that episode. But as you probably recall, they basically did open Puzzles then, and after entertaining an entire marching band, they seemed to lose interest in the enterprise. So everything that happened in this revisited subplot, including the cutesy theme song, felt pro forma. Even the signage, which ripped off the Cheers logo, was reminiscent of the parting gimmick in "Swarley." Anyway, the patrons puke and destroy stuff, the boys break their promise never to raise prices, and Doug from "The Fight" shows up primarily to remind us that Doug was briefly a pivotal character, as if we'd mistake general continuity for a good episode.
Another nitpicky point: Ted's pedantry can be great for a laugh, and on another night, we believe that he would butt heads with Barney by turning Puzzles into a salon where people ("nerds and fatties") discuss Ulysses. But on New Year's Eve? Again, it seemed like an easy joke, as did Barney's usual cons to score women. Kevin (Kal Penn) gets in on the action to carry beer and, presumably, fulfill a contract, although the decision to separate him from Robin was a sound one.  Imagine those two kissing at midnight? Talk about starting the New Year without a bang.
Now, given that the previous episode, in which Robin discovered she couldn't have children, was such a bummer, it was pleasing to see this one end on her upswing. But everything it took to get there was wearying. No one wondered where Sandy Rivers's meltdown was heading. (Also, no one traipses back and forth through Times Square on New Year's Eve that easily.) Robin wasted too much time before grabbing the hosting reins, though her speech to Sandy resonated: "I've made mistakes, I've felt alone, I had to get rid of dreams that I didn't know I had. I can't do 2011 anymore." December 31 can be a bittersweet holiday, and rarely does the following year begin on as promising a note as it did for Robin.
Finally, the highlight of the episode: Enigmas of the Mystical. Until Marshall tried to add this book to the baby's nursery, we had completely forgotten about those fascinating and ridiculous (?) commercials for Time Life's Mysteries of the Unknown. Lily objected, which led to a debate over proof versus faith. Her deadbeat dad taught Lily to believe in herself; Marshall's father stoked his imagination and, thus, his curiosity in sasquatch and werewolves. But as he peruses the book, citing examples of unexplained phenomena, he realizes that most of it actually can be explained — by the drunks and disturbed divorcees who supplied eye-witness accounts. The humor doesn't necessarily suit the subject matter, but at least it fit with Marshall's superstitious nature.
In the end, Lily's father (Chris Elliott) rushes from Chicago, where he's shilling his Slap Bet game, to congratulate her on the pregnancy, which doesn't totally redeem his "Great, thanks" response to the news. (Why is Lily's mom never mentioned? Come to think of it, other than in the title, mothers are generally overlooked on this show.) Marshall forgives the other cemeterygoers for opening beers on his dad's headstone and invites them to celebrate the Vikings victory, just as Mr. Eriksen would have wanted. And Robin reminds the nation that, "When that clock strikes midnight, we all get a fresh start." True. Too bad this episode was stale, but we trust HIMYM to return to form post-holiday. So, on that note, Happy New Year.