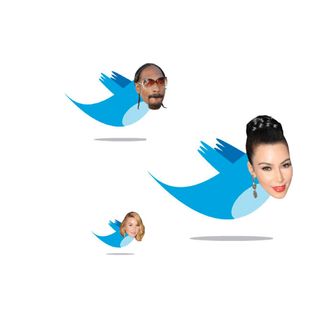 The weirdest thing about the rumor that Kim Kardashian gets paid $10,000 for a Twitter endorsement is that it's true. (She recently plugged ShoeDazzle.com*, for instance.) The biggest player in the pay-to-tweet market is Ad.ly, a social-media advertorial clearinghouse pairing brands with celebs to inject highly personalized advertising into their Twitter streams.
The pay rate for endorsing companies like Old Navy, Toyota, Best Buy, and American Airlines is determined by the size of a celeb's following and how that group responds to his tweets with shares and retweets.
On that sliding scale, Snoop Dogg (6.3 million followers) is in the top tier of payments, on the upside of $8,000 apiece, while Paula Abdul (2.2 million followers) falls somewhere in the middle, in the $5,000-each range, and Whitney Port (800,000 followers) falls in the bottom tier, making around $2,500 per tweet.
But there are outliers. When Ad.ly introduced self-destructing Charlie Sheen to Twitter, he was paid about $50,000 per tweet. It was worth it. Sheen's tweet for Internships.com generated 95,333 clicks in the first hour and 450,000 clicks in 48 hours, created a worldwide trending topic out of #tigerbloodintern, attracted 82,148 internship applications from 181 countries, and added 1 million additional visits to Internships.com.
Of course Charlie didn't write those tweets himself. No celebrity does. Instead, they're composed by hungry young tweet ghostwriters whose job it is to broadcast a celebrity's voice in 140 characters. Says Ad.ly CEO Arnie Gullov-Singh, "Consumers react positively to organic authentic messaging."
This post comes from this week's special issue of New York Magazine, which breaks down all the windfalls, paydays and freebies of the celebrity economy.
* This post has been corrected, removing the erroneous information that Kardashian had done a paid tweet for CVS.