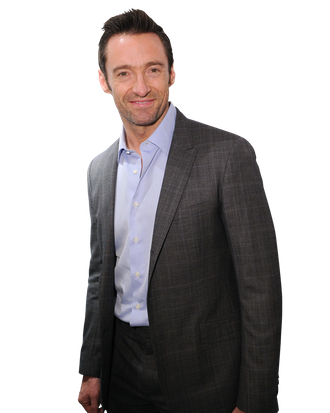 Hugh Jackman.
Photo: Craig Barritt/Getty Images
Hugh Jackman can draw a crowd. He's proven it time and again, most recently on Broadway, where he raked in an unprecedented $14 million for his one-man show, Hugh Jackman, Back on Broadway. Now the Australian triple-threat is lending that star power to Tropfest, the world's largest short film festival, which announces its inaugural New York event today. The twenty-year-old Aussie fest, which drew a live audience of more than 150,000 people to Sydney last year, is calling for entries of films no longer than seven minutes, some of which will screen on June 23 in Bryant Park. We caught up with Jackman about what to expect from the fest, as well as his record-breaking Broadway run and his upcoming stint as Les Miz's Jean Valjean.
You haven't had much idle time lately. Your one-man show just wrapped up its ten-week run, right?
I literally finished last night. Now I'm going to have some time with the family. Or as my wife said to me this morning, "Get out of bed. You're on!"
Back on Broadway broke a number of Broadway records, like the highest weekly gross for the Shubert Organization.
The show has gone way better than we could have imagined. I decided to do it because Wolverine kept getting delayed, so I didn't want to just sit around waiting.  I had quite modest ambitions. I said to my agent, "Find me a 30-minute charity gig or something, just get me going," and he rang me the next day and said, "We've got a theater."
You're starting rehearsals for the movie adaptation of Les Miz later this month. I read that there are going to be no prerecorded songs — that you'll be singing live on the set. Is that true?
Yes, I believe we are going to be singing live. We will obviously have to do a safety prerecord, because when you're singing you've got to have all the music in your ear, and I'm guessing also for quality of sound for the soundtrack. And sometimes when you film there are noises — smoke machines, things like that — where the actual sound on set may not be usable. But most of it we're going to be singing live, which for something like Les Miserables is essential. You don't want it to feel like it's all done in a recording studio, nor do you want it to look like the actors are miming the whole thing. I wouldn't know how to do that. I think it would take more work to mime it than to sing it.
Les Miz is such a beloved show. Does that add pressure? Or make you more motivated?
More motivated. I auditioned. I went hard for the part. I wasn't sitting back waiting for this one. This is one I really wanted. I feel, weirdly, that all the things in my life — particularly my professional life, which has been close to twenty years — have been converging to this point. I feel very lucky and blessed to have been in movies, and I feel lucky and blessed to have been in musicals. I've been waiting a long time to combine the two, and to be able to do it with something like Les Miserables, it just feels like a pinnacle.
Do you remember the first time you saw Les Miz?
Yes, I saw it in Australia for the first time, actually. A mate of mine was in it and I was completely blown away. I've seen it three times now, not including the PBS specials. Actually, the very first song I used as an audition piece was "Stars" from Javert. It wasn't right for the musical — I was auditioning for Beauty and the Beast so they were like, "Why are you singing 'Stars'?" But I was coming out of acting school and my acting teacher had made me sing that one song, so it was the only thing I had music to.
What about the physical transformation? Jean Valjean changes so much during the show.
Well, it's an eighteen-year span, so he'll go through a transformation during the film, but when we start he is in a labor camp. He's described as a "great ox of a man," so as [director] Tom [Hooper] says, "I don't want pecks, I don't want you to look like you've been to the gym, I want you to look like you've been hauling ropes to get ships into the shipyard." I'm literally starting training in a half-hour. I'm about to go into a whole lot of squats and pulling ropes and pulling myself up ropes. At the same time, I don't get to eat any fun stuff because he wants me to be lean in the face like I've been in a labor camp. But then he gets rich and goes to pot, so that part will be fun.
Tropfest has been in Australia for twenty years. Why expand to New York now?
Tropfest is like a rock concert in Sydney. You get 100,000 people watching short films, and suddenly all of Sydney thinks they are filmmakers. It has demystified that whole idea of ,"Oh my God, it's impossible to make films and you can't do it without a lot of money." So it seems to me that if it can work in Sydney, Australia, then in New York it should become an even bigger phenomenon. This is New York!
Tropfest alumni include Sam Worthington, Joel Edgarton. The FX series Wilfred is even based on a Tropfest short. Were you ever on the contestant side of things?
Yeah, I was in one. It won second place a couple of years ago. I did a little cameo for a mate of mine who was in drama school. I was swimming in my pool one day and he knocks on the door with his little flip cam and he goes, "Oh, mate, I just need a little cameo." So he took video of me swimming, and next thing he e-mails me and goes, "Oh mate, we won second place."
Any clichés to avoid? Or advice for people who want to enter?
A lot of people try and copy an idea from the past. It's like they've made a film before and, if now, say, the theme is lighthouse, they go, "If I can just add a shot of a lighthouse … "