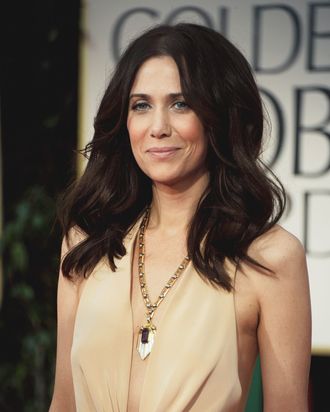 Photo: Frazer Harrison/Getty Images
While Universal absorbs Kristen Wiig's announcement last night that she would not be returning for a second Bridesmaids, Vulture has been busy discovering just what her next trip down the aisle will be, and we've got it: While Wiig's attachment to the The Comedian ("a romantic comic drama," in the words of its producer, Art Linson) has been known, Linson now tells Vulture that Wiig will start shooting his movie this July, after Saturday Night Live wraps for the 2012 season. Other insiders familiar with Wiig's plans tell Vulture that the SNL star has not asked to be let out of her sketch comedy duties to do any other films before she segues to The Comedian, which is being directed by Sean Penn and stars Robert De Niro as an insult comic with a bright future behind him.
Speaking of insulting comics, much speculation has centered on whether Wiig's reasons for bailing out of the Bridesmaids sequel had to do with Universal's ham-handed awarding of paltry $100,000 bonuses to the Bridesmaids cast after the $32 million film made $288 million worldwide. Not so, says one Team Wiig insider, who called the meager bonus "insulting" and "less than a half-measure," but also noted that the Bridesmaids cast was actually "fine without the bonus." Instead, the reason for Wiig's declination on a Bridesmaids payday has to do with concern for the checkered track record of SNL comics and Hollywood's tendency to pigeonhole them into profitable oblivion.
"The key to longevity," says our Wiig insider, "is transformation. Always doing something a little different. A Bridesmaids sequel feels a little avaricious and mercenary." However, another top manager in town who handles a principal cast member in The Hangover isn't buying it: "This is a negotiation, pure and simple."
Linson, meanwhile, says he's not familiar with Wiig's rationale, but knowing the star a bit, thinks, "I doubt that it's a business decision for her. She can write, she can act; she doesn't just 'do funny,' so I'd think it's more likely that her thinking is, 'I want to play with all these toys until the battery runs out.'"
And then of course, there's the math: Of the top ten romantic comedies ever made, only one — Sex and the City — dared to make a sequel. The result? It grossed a third less than the original did worldwide, and all but crushed the franchise with its appallingly bad reviews. Not that this has dampened Universal's desire to make a sequel. This is the studio, after all, that brought you the direct-to-video American Pie Presents Band Camp with Eugene Levy above the title.