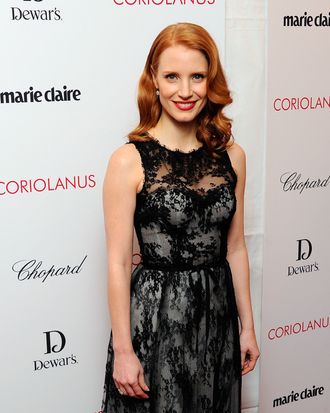 Jessica Chastain.
Photo: Andrew H. Walker/2012 Getty Images
She appeared in six movies in 2011 alone — one of which, The Help, has garnered her awards recognition galore (most recently a BAFTA nomination) — but Jessica Chastain still gets starstruck. In a major way. At last night's premiere of Coriolanus, we saw the actress about to step onto the red carpet at the Paris Theater — when, wait! — she spots Susan Sarandon ahead, speaking to reporters, and freezes. "I can't go in there," she tells her publicist. "I didn't know she was coming. I need a minute." More like three. When she finally walks down, we ask her what that was all about. "I get so starstruck all the time," she admits. "I've never met her before. I can hardly speak right now; I'm stuttering. Every day it's like, I'm on a red carpet and I'm meeting [accidentally smacks tape recorder with her hand] — Oh, sorry. See? Like, I'm totally nervous. [Laughs.]" It's hard to believe, given that she just made it through her first Golden Globes, we say. "I didn't really talk to anyone [laughs]. I didn't, like, really mingle; I sat at my table. I went and said hi to Helen [Mirren], because we've worked together before [on The Debt]."
At the after-party at the Forty Four at Royalton, she expanded on her Sarandon fandom: "I think she's a goddess," she told us. "Her performances, Dead Man Walking — I mean, she's such a beautiful actress; I make a fool out myself every time I meet someone I really love." Last week, for instance, she told us she started crying in front of Gary Oldman. "It was at Palm Springs, and I had just said, like, I'd love to meet Gary Oldman. And then I was in the middle of an interview, I think it was Entertainment Tonight or something, and he came over to meet and he, like, put his hands on my shoulders and said some really nice stuff about my work, and that he knew who I was. And I was so shocked by it. Then when he walked away, I turned, and I was kind of like, woozy, and I tried to continue the interview, but then the interviewer said, 'You have tears in your eyes.' And you know when you're trying not to cry when someone says, 'Hey, are you okay? Are you going to cry?' And then I just started crying. So Nicole [her publicist] pulled me away. She was, like, 'Let's let you calm down for a second.'"

So had she met Sarandon yet? "No," Chastain said. Then her publicist chimed in — "but the night's not over yet" — and whisked the star away.