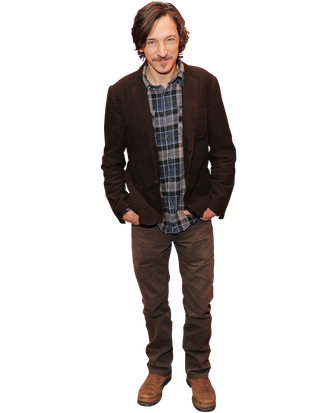 John Hawkes.
Photo: Jemal Countess/Getty Images
As the credits rolled on The Surrogate — a true-story comedy starring John Hawkes as a Mark O'Brien, a real-life polio-stricken poet who hired a sex surrogate (Helen Hunt) to help him lose his virginity — the Sundance crowd rose to their feet for a prolonged standing ovation. They repeated the standing O when Hawkes walked to the stage. Immediately, Twitter blew up with rapturous declarations of the movie sweeping next year's Oscars. Fox Searchlight snatched it up for $6 million, the biggest sale of the festival and a huge buy for an indie film under any circumstance. Altitude-induced hysteria aside, it was a wondrous and overdue moment of glory for the always-incredible Hawkes. This marks the third year in a row the 52 year-old (!) has starred in the festival's breakout hit. But unlike 2010, when he was the creepy cult leader supporting festival "It" girl Elizabeth Olsen in Martha Marcy May Marlene, or 2009, when he was the creepy uncle supporting festival "It" girl Jennifer Lawrence in Winter's Bone, Hawkes is getting all the attention this time around. It couldn't happen to a nicer guy. Jada Yuan spoke to Hawkes at Bing Bar about just how he got to look so deformed in the movie and his most surreal of Sundances.
You got a standing ovation at the premiere.
That's what I hear. I know our director Ben Lewin got one when he stepped onstage, and there was a second when I walked up and my head was down. I wasn't looking. I wasn't trying to be rude, I just am not always really comfortable in front of crowds unless I'm playing a character onstage. It's just easier. I'm not being coy.
How did you react when you found out it had been sold overnight for $6 million?
I don't concern myself too much with figures and things like that, but I'm really happy that Fox Searchlight bought the film because I feel like they did a great job with Martha Marcy May Marlene. They care a lot about film. The mini-major branch within a studio is something I view with some skepticism, but they truly care at Fox Searchlight about small movies and trying to get them out to their audience.
What is it you said you view with skepticism?
The idea of major studios having "independent" arms. But it's better than not. The major studios don't seem to make mid-level budget movies for adults anymore, so that's why independent [arms] have taken up the slack and why festivals like Sundance have such import, because these are films that maybe wouldn't have a chance or get seen otherwise. That's not news, but it's really a great thing.
Where were you when you found out it got sold?
We were at a dinner party for the film that had been scheduled long before —  just a celebration with cocktails and food and, you know, in our digital age, the information was coming in by the minute. "Don't tell anybody but … " Or, "We think this might happen but you can't say anything." Everybody was telling each other the same rumors they weren't supposed to be telling anyone.
How does Sundance feel different than the past two?
Kinda the same, really. I just felt like I was a part of something amazing. When the credits rolled after Winter's Bone and Martha Marcy, I thought I was just part of something kind of amazing. It's really great. How lucky am I?
Except this time, it's you in the spotlight instead of your female ingenue co-stars. How does that feel?
It's intense. It's been a lot of talking about myself and the film, a lot of photographs and things. No offense, it's not my favorite part about the process, but I do want to help the film. But it's been intense and it feels like everything is just sort of downhill from here [laughs] because it can't get better. It's only gonna be disappointing now. But that's okay. I'm prepared.
Your entire career is going to be downhill, or just your future Sundances?
Probably all of it, I don't know [laughs].
How did you get involved in this movie?
After last year's luck around the awards season [Editor's note: Hawkes got an Oscar nomination for Winter's Bone], I was sent a nice little pile of scripts. I read fifteen or twenty scripts over a week and the two I chose were the two lowest-budget ones. I have a very understanding manager, agent, and lawyer team, thankfully [laughs]. This one, I just loved the script. In meeting Ben Lewin, the writer and director, I was charmed and taken by him. He's a polio survivor. He's got an interesting take and he really is the guy to tell this story. He has an understanding of it that the rest of us don't.
Because of his own —
Yes, because of his own disability. The first question I asked him when we sat down and met was, "Why not a disabled actor for this role? Have you searched for any disabled actors?" And he assured me that he had — over the period of a couple of years, he put out feelers to disabled organizations and he'd met and read with several disabled actors; some of them he thought were terrific and he'd put in the movie, but none of them felt quite right for the character Mark O'Brien. I knew that one thing the film didn't want was any kind of laid-on sentiment, any kind of self-pitying for the character. It's such a fraught situation. You've got a guy who spends his life in an iron lung. Since he was 6 years old, he'd only been out of it for moments.
And you watched Mark O'Brien in the Oscar-winning documentary short about his life, Breathing Lessons, to prepare?
Jessica [Yu]'s film was the biggest tool as an actor that you could ever hope for. It's 25 minutes of Mark O'Brien speaking frankly and often emotionally about his life … him being washed, getting outside. It was just invaluable. It was such an insight to him, and his poetry is throughout that documentary as well. You couldn't ask for a better tool, as well as reading every article that Mark wrote as a journalist and every poem that I could find by him and another book that he had co-written called How I Became a Human Being. 
You're lying down the entire movie, playing a guy who can't move anything below his neck and whose chest distends in an incredibly unnatural way. Didn't your back hurt?
Yeah. Mark's spine was horribly curved. When you read the script, it says, "I haven't seen my penis since I was 6 years old." And Helen Hunt as his therapist says into a tape recorder, "His spine is so horribly curved that I don't know if intercourse is possible." You need to honor those things. I invented, along with the lovely props people, something called the "torture ball," which was a soccer-sized piece of foam that I would lay onto the left side of my back in order to curve my spine. It turned out to not be very good for me and my chiropractor told me that my organs were migrating. I probably will carry some of that the rest of my life, but it's obviously a minute amount of pain compared to what many disabled people face minute-to-minute.
You still have back problems?
A little bit. I don't know what it's called, but my spine now has not enough movement. And I did yoga throughout the production, in between takes; I've been doing yoga for like 25 years. But my spine doesn't have enough movement in one direction and the opposite direction has way too much movement. [My chiropractor] doesn't know how to fix it other than I might wear a brace for a while.
You also use a "mouth stick" to type and dial the phone.
I practiced that stuff on my own at home, when nobody was there. I'd lay down on the ground and put something under my back to curve my back and fasten my own mouth stick to practice with. I just tried to make something like I saw in Breathing Lessons, and then I just practiced typing, turning pages of books, things like that.
How did you and Helen Hunt cultivate such an intimate relationship? She's naked like the entire movie.
No, she's not naked the entire movie! [Laughs.] Good Lord.
She's full-frontal in a lot in the movie. And she looks amazing.
She does. And it was such a small part of the movie. I feel like it's handled like American movies don't handle nudity and sex. It's handled as a right, I think, and not something that's dirty or to be ashamed of or laughed at. That's her job. I know that Helen got it through talking to Cheryl, the real surrogate, that she's not ashamed of her body. She's always talked, "Sex positive, sex positive." I feel like she's a technician. She just figures out how to get past the sexual issues. Helen embodied that, I think, as best she could. Shooting those scenes, Helen and I felt very safe, and not only is there a fair amount of physical nudity, but there is also a lot of exposed soul sort of work, and that's probably harder on some level for some of us, to find that. You know, the beginning of our relationship was her trying to get my shirt off, so she just focused on that and I concentrated on trying to — it's hard to lay still for a five-minute take without moving any part of your body except your head while somebody's trying to take off your shirt. Our challenge was kind of physical in a way. Luckily we shot those scenes in sequence and we progressed to the scenes that are less about physical nakedness, and more about emotional nakedness.