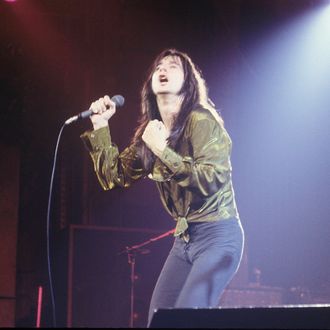 Check a map, Steve Perry!
Photo: Richard E. Aaron/Richard E. Aaron
Ever since 1998, when The Wedding Singer first resurrected Journey's "Don't Stop Believin'", the 1981 arena-rock anthem has achieved pop-culture permanence, whether soundtracking The Sopranos final scene, becoming synonymous with Glee, scoring a thousand flash mobs, or being piped into every professional sports arena in the land. With nearly 4.5 million digital units sold, it's the most downloaded twentieth-century track in the history of counting such things. Jonathan Cain's unmistakable opening piano riff reflexively inspires people all across this nation to pump their fists … although there is one spot where the arms always collectively falter, even if for just a moment: Southeastern Michigan. For nearly 31 years, this flash of distracting cognitive dissonance has struck each time Steve Perry's bright tenor lands on the iconic but geographically flawed second line: "just a city boy, born and raised in South Detroit." Because, as anyone with a tie to the Motor City knows, South Detroit doesn't exist, either as a term of art or a geographical locale.
East Side? Sure. It's where Eminen spent his adolescence. West?* Home to the original Motown Records. Southwest? Best Mexican food in the state. But South Detroit is as fictional as the Shire of Middle-earth.
Yes, Detroit does have a southernmost portion, but this area is known as "downtown." Directly south of downtown, across the Detroit River, is the Canadian hamlet of Windsor. South of that lies a vast stretch of towns known collectively as "Downriver," which, at the time the song was written, was still somewhat rural. Technically speaking, this is the region the song refers to, making that mysterious male on the midnight train to anywhere* something less than a "city boy."
For three decades, this has stymied the Motor City adjacent, whose confusion is now a multigenerational phenomenon, one that strikes at the very heart of a city's identity. Why the fictional neighborhood? And, on further thought, why did a bunch of Bay Area rockers with no ties to Detroit choose it as the fulcrum point for a ballad of hope and perseverance in the first place? This is how rabbit holes are dug. So to finally free Michiganders from these nagging questions that stop them from fully embracing what is our new unofficial national anthem, Vulture decided to solve the mystery by going to Steve Perry himself.
Reached in San Diego, the former Journey front man explained that some of the enduring song's unique imagery came to him in the witching hour one morning in May of 1980 while the band was in Detroit for a five-night stand as part of the Departure tour. Perry, unable to sleep, stood staring out of his hotel room window at 2 a.m. "I was digging the idea of how the lights were facing down, so that you couldn't see anything," he says, recalling the night. "All of a sudden I'd see people walking out of the dark, and into the light. And the term 'streelight people' came to me. So Detroit was very much in my consciousness when we started writing."
Yes, but what about South Detroit? For the love of Tim Allen, what about South Detroit? To that, Perry pleads poetic license, and ignorance, despite the fact that a quick glance at a map would have alerted him to the issue. "I ran the phonetics of east, west, and north, but nothing sounded as good or emotionally true to me as South Detroit," he says. "The syntax just sounded right. I fell in love with the line. It's only been in the last few years that I've learned that there is no South Detroit. But it doesn't matter."
If the frequency of pop-cultural recycling and the number of digital downloads are an accurate gauge, Perry is right, the flummoxing of an entire metropolitan notwithstanding. In fact, the song will likely continue to go on and on and on and on …
* This post has been corrected to note that Eminem was from the East Side, and Motown is in the West, not the North. Also, the midnight train in the song goes "anywhere" and not, as we had it, "nowhere." In our erroneous version, the train is far less useful, and we hope nobody attempted to book tickets.