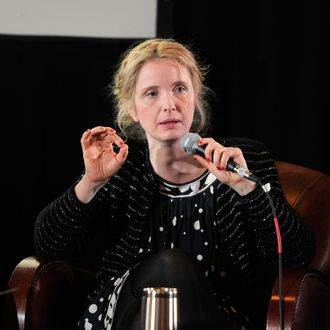 A suffering Julie Delpy at her Sundance panel.
Photo: Jemal Countess/2012 Getty Images
When Julie Delpy stepped out onstage with Parker Posey and moderator/Carpetbagger Melena Ryzik for yesterday's Sundance TimesTalk about Delpy's new movie 2 Days in New York, she couldn't open her eyes. Just as the writer-director-star had arrived backstage, she'd gotten a splitting migraine, the kind where you see colors and can't stand to be around light. But, bless her, she was determined to carry on. Someone from the audience gave her sunglasses. "I feel like Keith Richards," she said, laughing. The lively discussion then hit on sex tapes, the struggles both Delpy and Posey have faced at being labeled "indie,"  and a particularly inspired rant from Delpy about how if Che Guevara had seen Paris Hilton wearing his image on a T-shirt, he would have shot her. Then with about fifteen minutes to go, Ryzik was handed a note saying that Delpy had to leave. 
After the actress left, Ryzik and Posey gamely carried on, a little confused, but assumed Delpy had a prior commitment she hadn't told them about. It was only after the talk was over that they found out Delpy had gone to the hospital. "She's feeling much better now," a rep told us, which is wonderful to hear, given the terrible health issues that befell beloved director of the San Francisco Film Society Bingham Ray (R.I.P.) and Tracy Morgan  this festival. Wishing Delpy bonne santé and a restful day.
Related: Sundance Day 5 Buzz Meter: Chris Rock's Culture Clash in 2 Days in New York
Aaron Paul on His Sundance Drama Smashed, Playing Drunk, and Breaking Bad
Sundance Breakout Lizzy Caplan on Save the Date and Her Raunchy Comedy Bachelorette