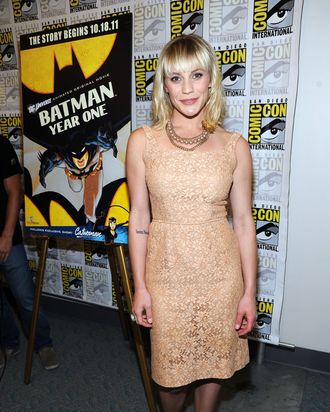 SANActor Benjamin McKenzie and Katee Sackhoff attends "Batman Year One" Press Room during Comic-Con 2011 at San Diego Convention Center on July 22, 2011 in San Diego, California.
Photo: Frazer Harrison/Getty Images
Katee "Starbuck" Sackhoff is in final negotiations to join Vin "Vin Diesel" Diesel in the next installment of The Chronicles of Riddick, Deadline reports. Sackhoff would play Dahl, not just a delicious lentil dish but here a Nordic mercenary who's after Diesel. Also joining the cast is reliable villain Jordi Molla, who, according to Variety, is in talks to play Santana, another mercenary similarly tasked with tracking down the elusive Riddick. The still-untitled film — which has had an inauspicious lead-up thanks to a fraught financing process — finds Riddick on a planet full of dangerous aliens while he attempts to elude capture by the hordes of bounty hunters hot on his tail. Little do those bounty hunters know that they are just part of Riddick's plan for vengeance!