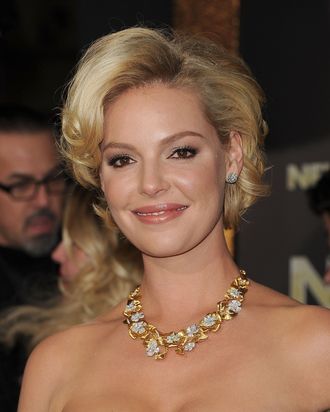 Actress Katherine Heigl arrives at the premiere of Warner Bros. Pictures' 'New Year's Eve' at Grauman's Chinese Theatre on December 5, 2011 in Hollywood, California.
Photo: Jason Merritt/Getty Images
What to do when you're a rom-com star with a likability problem and a string of recent flops to your name? Start blogging! Heigl just posted her first piece on the women's site iVillage, and if you can get past the ill-advised title ("It's Difficult To Have It All"), it's a mostly inoffensive, maybe even humanizing essay about the guilt associated with being a working mother. Katherine Heigl has feelings! And Katherine Heigl has excellent taste in movies for her young daughter (even if The Little Mermaid doesn't hold up as well from an adult's perspective). She'll apparently contribute three more posts to the site, which leaves plenty of time for the gig to off the rails when Heigl wakes up late, finds nothing of note in her Google Reader, and decides to compile a top ten list of the worst kissers in Hollywood, with accompanying shirtless photos. Anyway, in the meantime: Welcome to the grind, Katherine Heigl!