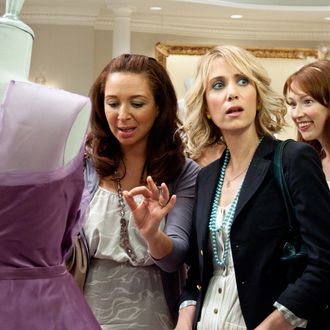 (L to R) ROSE BYRNE, MAYA RUDOLPH, KRISTEN WIIG and ELLIE KEMPER in "Bridesmaids". In the comedy, Wiig stars as Annie, a maid of honor whose life unravels as she leads her best friend, Lillian (Rudolph), and a group of colorful bridesmaids on a wild ride down the road to matrimony.
Photo: Photo Credit: Suzanne Hanover/Copyright: ? 2011 Universal Studios. ALL RIGHTS RESERVED.
There's been a lot of talk recently about whether Universal might pursue a Bridesmaids sequel without Kristen Wiig, and in the media firestorm that resulted from that bit of news, it again seemed like Wiig was excluded, as every member of the cast weighed in on the matter except her. However, E! finally caught up with Wiig, and she confirmed what Jon Hamm said months ago: She's not interested in a second Bridesmaids. "We're not planning on doing one," Wiig tells E! "We had a special time making the first one, but we're really excited to try something else." And while that doesn't totally shut the door to a sequel somewhere down the line, it's clear that Wiig has moved on: Not only has she been cast up promising new projects with Paul Rudd and Robert De Niro to act in, but she and her Bridesmaids cowriter Annie Mumolo are already hard at work on a new script. "It's going to be a little bit of a different tone [than Bridesmaids], but it's going to be a comedy, for sure." If she puts Melissa McCarthy in that one, will Universal call a truce?