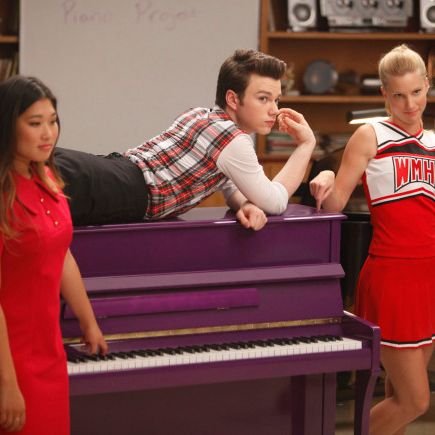 It looks like Ryan Murphy and Team Glee are closer to figuring out how to handle the pending graduation of several key characters, including those played by Lea Michele, Cory Monteith, and Chris Colfer. When last we left the drama over the future of the Fox musical drama, co-creator Ryan Murphy told Deadline that plans for a spinoff were on hold and that a decision on whether to revive them would be made in 2012. Well, the verdict is in: "There will not be a Glee spinoff," Fox Entertainment chief Kevin Reilly said definitively Sunday at his network's portion of the semi-annual TV Critics Association press tour. However, Michele, Colfer, et al., "are graduating," Reilly says. So they're leaving the show? Probably not.
When asked by reporters whether Michele would return, Reilly said the actress "will still be part of the show." Afterward, when asked to clarify the status of Michele and the other graduating seniors, Reilly admitted that he hadn't yet "looked at all of the contractual situations" of the actors. "But we'd like to have all of them back," he said. As for just how the Glee producers plan to include former high school students in a show about high school, Reilly would only say that Murphy has come up with "a cool idea for next season" and that he couldn't say more. Later, Vulture asked if perhaps producers were mulling a show-within-a-show, or a split focus where some episodes would be set in Lima and others in whatever new universe is created for the former McKinley students. "I'm alluding to some version of that, but I don't want to get ahead of myself," he said.
While Reilly's remarks on Glee might seem a bit vague, they were actually among the more definitive pronouncements of the day, at least when it came to existing shows. The Fox chief said he still hasn't figured out whether to renew Terra Nova, House, or Fringe. "We've done a good job avoiding some of these big decisions," he quipped. Reilly sounded like a man who wants to renew Nova, however, praising the show as a success despite what he conceded were some creative hiccups. The other two shows, however, may see their fates come down to financial issues, with Reilly noting that both shows carry hefty price tags. He promised House producers would get the chance to resolve story lines should this end up being its final season, and he also begged Fringe fans to hold off campaigning for the show's survival just yet. "Please don't start the letter-writing campaign," he said. "I can't take it." Reilly even begged off on the matter of whether The X Factor will bring back host Steve Jones, saying only that Ryan Seacrest has proven he's worth the big bucks he currently makes (and perhaps the big raise he'll likely get as part of his latest contract negotiation).
Reilly did have a few rock-solid things to announce. He unveiled Fox's plans to create a new Saturday late-night animation block designed to foster new toon talent. Former Adult Swim programming chief Nick Weidenfeld has been appointed to run a new unit in charge of developing shows for both the late-night lineup and for a new digital animation platform Fox plans to create. Producer Hend Baghdady (Warren the Ape) will serve as exec in charge of production for the unit, which will produce up to 50 digital short-form programs each year, starting this year. The late-night block will debut next January and is expected to start off with four series per season. One series that will not be part of Fox's future: The low-rated and critically reviled Jonah Hill toon Allen Gregory. Reilly said the series has been canceled.