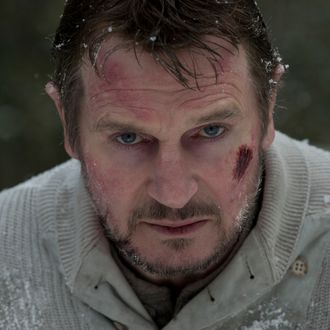 Liam Neeson.
Photo: Kimberley French/OpenRoad
The marketing campaign for The Grey has tried to sell it like it's the kind of movie that you've seen before: Liam Neeson gets angry, gets revenge, and busts some skulls in imaginative fashion. The ostensible twist here is that instead of beating up on Eastern European henchman who have kidnapped his wife and/or daughter, Neeson is this time facing off against wolves. Punch those wolves, Liam! Knock 'em in the jaw with your fists, aided by the broken glass you've strapped to your knuckles! Assert your dominance over the animal kingdom!
So … let's talk about that ending.
(Obviously, spoilers will follow.)
The thing about The Grey is that it really isn't that kind of movie. There is not much wolf-killing, or even wolf-punching! Instead, Neeson and his comrades, trapped in the deserted, snowy wild after a harrowing plane crash, are hunted and picked off by the wolves one-by-one … and the movie ends with Neeson, the only one left, making his doomed last stand. That shot of Neeson getting ready to punch some wolves? It's the last image of the movie, an "I'll die fighting" rallying cry rather than an excitingly silly second-act set piece.
Serious kudos, then, to The Grey and its filmmaker Joe Carnahan: It's not easy to get away with an existential action movie where everyone basically dies! Audiences may feel a little bit cheated by that ad campaign, which made wolf-punching its cornerstone image — imagine if Melancholia and Martha Marcy May Marlene had placed equal emphasis on their final shots! — but that's not the fault of the movie itself. And hey, Miley Cyrus loved it! "Wow," she tweeted. "The best movie I've seen in a long time! It's a must see!" (Well, much like those wolves, Cyrus can't be tamed.)