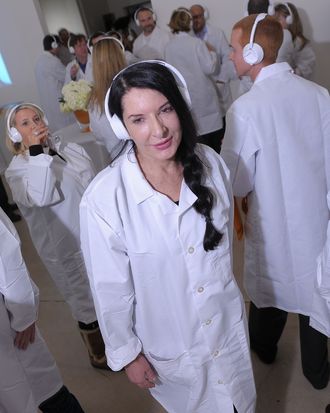 Photo: Michael Loccisano/Getty Images
"What's your name?" the woman at the front door mouthed to each guest entering the Silence Is Golden party for the HBO documentary Marina Abramovic: The Artist Is Present. Some mouthed their names back; others flashed Sundance credentials. The woman nodded solemnly, checked them off the list, and motioned to the sign reminding everyone not to talk or use their cell phones. At the coat check, more non-speaking, non-whispering employees waited to trade each guest's parka for a white lab coat and a pair of white over-the-ear headphones.
The party, held at Park City's Julie Nester Gallery and hosted by HBO and Veuve Clicquot, was an extension of Abramovic's MoMA retrospective, where the performance artist clocked 700 hours of sitting silently seven hours a day, six days a week in a plain chair in the museum's atrium, opposite a rotating cast of some 1,400 visiting sitters. On one wall of the gallery was a slide projection of Abramovic's face on various days at MoMA, staring across the room to a slide projection of people who'd come to sit with her, many of them crying. The only sounds were the click of camera shutters and a loud metronome ticking off seconds.
It's unsettling at first to be at a party where you cannot mingle, at least with words. How do you order at the bar? Make an introduction? Tell your friend about your day? Helpfully, the passed hors d'oeuvres had very descriptive signs on their trays (e.g., "petite corn bleu made with Utah raspberry chutney"), and it was relatively easy to discern why some of the people in lab coats were walking around with bottles of Champagne. Guests, though, seemed most comfortable taking to text and Twitter to tell the world how weird and weirdly wonderful this party was.
Forty minutes in, the room began to migrate toward something. The artist was present! Abramovic walked through the room Mother Teresa–like, dispensing hugs and writing words out with her finger on tabletops. Eight minutes later, the room migrated again, this time following Sundance founder Robert Redford, who'd dutifully suited up in his lab coat and headphones. Redford rarely goes to events, so his presence was a big deal. He'd also brought his entire family along; you could identify them by playing Spot the Redhead. Photographers snapped away at Redford and Abramovic, until the Sundance Kid made a cut-the-throat gesture.
At exactly 8:07 p.m., Abramovic took the stage for an anticipated performance-art surprise. Instead, she merely smiled and said, "Ladies and gentlemens [sic]! You can take your headphones off and shake your experience of the silent party!" Everyone applauded and the room buzzed with talk. "Thank God," said a man next to me. "That was the longest hour of my life."
This was Abramovic's first silent party, but not her first requiring guests to wear lab coats. At the 2011 MOCA gala, she handed out 850 lab coats. "All Hollywood was in lab coats!" she enthused. Guests ate dinner at tables with holes in the center, out of which protruded a person's head. "So when you're eating, the people are turning, watching you silently," Abramovic said. "It was amazing. This was also changing the idea of spectator and viewer."
Lab coats, Abramovic says, "are interesting to me because they create the situation of equality. Everyone is democratic and the same, then also become experimenters — this kind of mischieving [sic] element, which is beautiful. And I really like to change the kind of chemistry of the parties. It's always the same."  The silent element was important because, she said, the MoMA exhibit "was all about gaze. And I wanted to transport this kind of experience to the party situation. People have to look at each other in the eyes. They have to communicate in different ways."
Lauren Greenfield, whose documentary about extreme wealth and the financial collapse, The Queen of Versailles, sold to Magnolia Pictures, said she found the party to be a relief from talking to press all day every day. But once the headphones were off, she said, "I kept forgetting I could talk. I was trying to get by these people, and finally I was like, Oh, I can say 'excuse me.'"
Redford, too, found the party a nice respite from interviews and giving motivational speeches to indie filmmakers. "It was fabulous," he said. "I loved the fact that some of the people didn't know what to do with the silence. Really, people were coming up to me and trying to talk!" He gave offending talkers a zip-the-lips gesture. "Then they got nervous," he said, grinning.
Redford had been plotting to get Abramovic to Sundance ever since seeing the MoMA show. "I was there the whole day," he said. "I sat. I stood. And I just thought, Boy, we have to get her here. To me, what was impressive was the physical and mental discipline it took for her to sit there for that amount of time, to force people to just watch what it's like to not do anything but look." He was also struck by the power of silence, he said, "and forcing people to really look at each other rather than this and that," he mimed punching away at a cell phone. The two didn't meet until the week before Sundance, though, when they both happened to be at the same restaurant in Santa Fe. (Redford has a place there, where he was editing The Company You Keep, about Weather Underground activists.) "Suddenly she was at the restaurant and I said, 'What are you doing here?' And she said, 'I've never been here. I came here to rest before going to Sundance.' I said, 'Me, too.'" His first act upon taking off the headphones was to turn to Abramovic and suggest they get together while she's in town.
Looking upon the room of people in lab coats happily talking away, Abramovic seemed overjoyed. "At the beginning, it is very intimidating," she said of the guests. "Then they start to slow down. The metronome helps. Then they start getting more and more connecting. And look at them now! They're out of control! There would never be this kind of friendliness and excitement if not before was silence." And with that, she walked away to talk … to someone else.