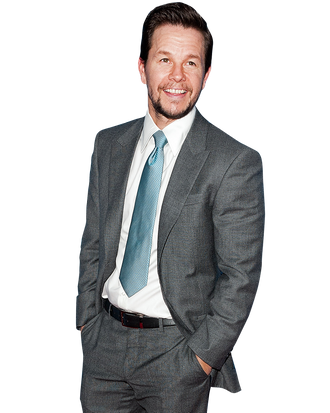 Mark Wahlberg.
Photo: D Dipasupil/Getty Images
Mark Wahlberg has put his Marky Mark, teen-pop period of the early nineties so far behind him that by now, there's a whole young movie audience that probably doesn't even remember it. Firmly anchored by his Boston roots, his Catholic faith, and his family, Wahlberg has steadily climbed to Hollywood stardom over the past eighteen years through such hits as Boogie Nights, Three Kings, Four Brothers, and The Departed, for which he won an Oscar nomination. Today, Wahlberg isn't just a highly compensated actor, he's also a successful producer and a budding restaurant mogul: His Boston burger joint, Wahlburgers, will soon be going international. His latest picture, Contraband, is a heist film directed by Baltasar Kormákur, who starred in the Icelandic original, Reykjavik-Rotterdam, and features Wahlberg once again showing off his caper chops. Vulture checked in Wahlberg about his secret affinity for crime, beating people up, and eating Dirk Diggler Dogs.
Considering you've run smuggling and heist operations in Contraband, Three Kings, and The Italian Job, do you think you'd make a good smuggler?
Yeah, I certainly could — I have in the past. [Grins mischievously.] A few things here and there, out of necessity. Only things that I need from other countries that I don't think I could find here. Back in the day, we may have transported a little illegal marijuana here or there, but not in this day and age. Those days are long gone.
At one point in the movie, your character, who's been pulled into "one last job," comments that even though he gave up the life, he really loves the smuggling world. What do you love about your world?
Anytime I get to really go off — whether physically, verbally — and to be able to improvise and play in a way that I think will add a lot of humor to the part. You know, these guys have known each other for a long time, they've done a bunch together, they play around a lot. If we didn't tap into that, we would have been in trouble. I'm glad Balt was open to that, because it can become a little too serious.
Go off how?
Just go crazy. I like to go crazy. Like when I get to smash Giovanni Ribisi's head and pull him through the window of the truck, that was really fun. He didn't like the idea at first. I had to talk him into it. He likes to go off, too — he likes to beat up people. He just doesn't like being beaten up, which I can understand. I feel the same way. [Chuckles.]
Well, who would want to be beaten up?
I know a few people! You'd be surprised. We're shooting a movie in New Orleans right now, Broken City, and I had to bring in a guy from L.A. because he likes being beaten up so much. And I honestly think it's going to be one of the best fight scenes ever in a film, because it's real. And you don't see that, especially now, with all the quick cuts, like the Bourne fights and all that stuff. Those are really cool and interesting ways to do it, but you've got to find ways to out-do that. The only way to out-do it is to put the camera there, no cuts, no movement, let it happen and let it be real in a way that it's just shocking to people. People on the crew were like, "Holy cow." Let me show you. [Whips out his iPhone.] I can show you a video we did with him, an aftermath of a fight scene, so you'll see what kind of a guy he is. Don't be disturbed by the bruising. [Displays video of a large man whose entire torso is bruised with every color imaginable.] Look at that. That's a bruise. Crazy, huh? It's real, but this is what he likes, this is what he does. This is what gets him excited in the morning. That was from a scene that actually got cut from the movie, but we made it up to him, so he loved it. He plays a Staten Island man who's having an affair with someone's wife, and I'm a private investigator watching him, and I catch him in the act, and then his neighbor comes running out and hits me in the back with a bat; I get the bat away from him and take him out, and then all of a sudden he comes running out. He was happy — he had relations with the woman in the scene, then he got to get beat up again, so he was doubly happy. Oof!
Are you still planning a sequel to The Fighter?
We don't want to make it as a sequel. We want it to be its own film, about the relationships that came out of those horrific battles with Arturo Gatti. Those guys had inflicted so much pain on each other, yet they became so close. Even after the first fight, they became very close; but after the second and third fight, they became best friends — and yet they were going in there and doing that to each other, inflicting so much pain on each other. Even when Arturo had his last fight, Micky was his trainer, and it was one of those weird things. Micky had that bond with Dicky, but Dicky was his brother — he had no choice. He chose to befriend Arturo. So it's really about that, and the damage they inflicted on each other, so it's a much different movie. You have to have the right story, which is why we never made a sequel to The Italian Job, or Four Brothers. We're not doing it just for the sake of a paycheck. If you can make it better than the first, then it's worth doing. It has to be something that can stand on its own. Scott Silver and I talked about it at length, and the version of The Fighter with Micky Ward and Arturo Gatti is something completely different and can be fascinating, for a completely different reason. It's not a study of this world he comes from, there are fewer relationships. It's very different.
So The Italian Job sequel, to be called The Brazilian Job, and the Four Brothers sequel, to be called Five Brothers, aren't happening?
Well, they keep working on the scripts and try to get it right, but if they can't make them better than the first, then I'm not interested.
There's even talk of a sequel for The Departed. William Monaghan has an idea about it focusing on your character.
Yeah, me and him wanted to talk to Warner Bros. about it, but it's all in the execution. It's easier said than done.
Another of your upcoming movies, Ted, sounds completely different. How was Seth MacFarlane as a mo-capped teddy bear?
Seth was there on the set, you know, directing, yelling "Action!" And then he'd do the bear's voice, and I would either look at a little stuffie of the bear, or a little X or whatever, and we would improvise and play around. I never had a bear before. I had a stuffed monkey when I was little that I was obsessed with — I took it with me everywhere, until my parents took it away, because it was getting old, dirty, and smelly.
Seems like you're balancing action films with comedies. Would you ever do a musical comedy?
No, I wouldn't go that far. [Laughs.]
How come the menu for your Wahlburgers restaurant outside Boston doesn't take advantage of your storied history?
Hmmm. We'll see. We're still expanding. The menu and the restaurant is more of a reflection of our upbringing and our childhood, growing up in Dorchester, so there is the "double decker" and the "triple decker," like the house we lived in. But maybe we should add the Dirk Hot Dog. The Dirk Diggler Dog, just for shits and giggles. [Laughs.] We need new names for the burgers then, to go a notch up. Do you have any ideas?
You could do a fish burger for The Perfect Storm, or a veggie burger for The Happening.  
Or Funky Fries! [Laughs.]
Are you still planning a reality show about the joint?
We've already shot a sizzle reel, and we're going out with it now. People will be surprised. It's not a gimmick. My brother Paul, the chef, is a super-talented guy, and the food is fantastic. You could open up a restaurant with a celebrity name or celebrity attachment and get them to come there, but the food is what gets them to come back. And our business continues to grow and grow, and we're selling 1,300 burgers a day — and this is in a small town, not on the main road.
How are plans for the Entourage movie coming?
Great. We're just waiting for Doug [Ellin] to finish the script, so it's in the works. I call and harass him all the time. Every day, I spend at least two hours on the phone working on projects, mostly writers — hassling them about hurrying up and delivering their scripts.
Have you tried threats yet? They seem to work in Contraband.
With them? Yes, because I will choke the shit out of them. [Laughs.]