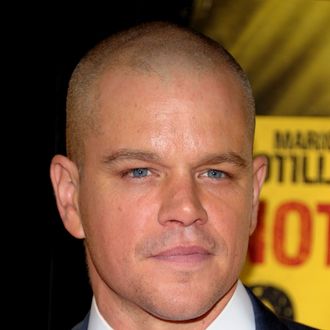 Photo: Michael Loccisano/Getty Images
Remember that untitled John Krasinski and Dave Eggers movie on which Matt Damon was to make his directing debut? Well, when news of the project broke last October, there were mighty few details about about the plot of the movie, other than that Damon was to have played a salesman whose arrival in a small town leads to intense personal scrutiny that turns his life upside down.
Now, it seems, the reason for the that lack of clarity on its plot might not have been because Damon et al. were being precious: A well-placed source tells Vulture that script issues have Damon pulling back from his commitment to direct the film, though we're told he's still up for starring in the $12 million project.
Of course, this is all a bit puzzling, because while the idea for the movie was hatched by Krasinski with McSweeney's editor Eggers, the script was written by Krasinski and Damon, who'd planned on directing and starring in it along with Krasinski and Frances McDormand.
It remains to be seen whether Warner Bros. Pictures, which houses Matt Damon and Ben Affleck's Pearl Street production company, will want to proceed without Boston's Finest debuting behind the camera, but even if they balk, we expect some sort of Krasinski, Eggers, and Damon bouillabaisse to emerge for the tasting eventually: After all, Damon co-starred with Krasinski's wife, Emily Blunt, in The Adjustment Bureau, while Krasinski starred in Away We Go, which Eggers co-wrote with his own wife, Vendela Vida.