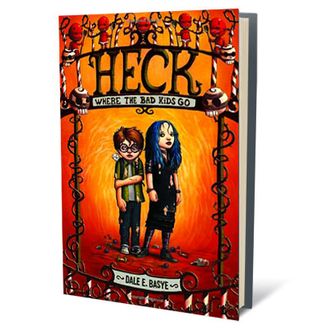 Now that MGM is back from the dead, financially speaking, it should come as no surprise that the studio's creative interests lie with the afterlife. Case in point: We hear that the studio is inches away from inking a deal with Alex Timbers, the Tony-nominated writer and director of last year's Broadway rock musical Bloody Bloody Andrew Jackson, to direct a big-screen adaptation of Dale E. Basye's best-selling kids' book series, Heck.
For the unfamiliar, the popular Random House series is essentially Dante's Inferno, albeit for kids: A younger brother (Symbolism alert! He's named Milton!) and his older sister (Marlo Faustus) die in a freak marshmallow accident, and are consigned to life in Heck. It's a limbolike reform school where bad kids go after death, and where Lizzie Borden teaches home economics classes and Richard Nixon lectures on ethics. Milton plans to escape with the help of his friend (wait for it, classics majors) Virgil, who has a map of the circles of heck.
It's not certain that Basye's title will stay unchanged, but if the studio suits want it gone, we humbly suggest Beetlejuice-box, Really Dead Poets Society, and Heaven Can't Hardly Wait. Also unclear is whether MGM hopes to make this a musical, but given Timbers's involvement, if they don't, we'll be, um, darned.