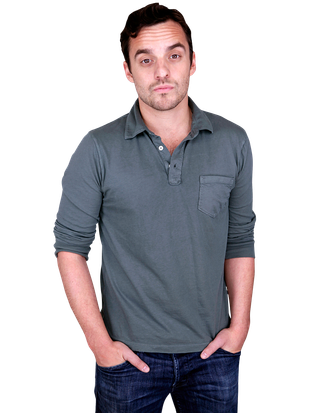 Jake Johnson.
Photo: Jeff Vespa/WireImage
The Sundance Film Festival is crowded this year with TV actors seizing the chance to tweak their image, and Jake Johnson is foremost among them. Best known for playing wounded neurotic Nick opposite Zooey Deschanel on the hit Fox comedy New Girl — and for playing the best friend in several other big-screen comedies like No Strings Attached — Johnson co-stars in the Aubrey Plaza sci-fi romance Safety Not Guaranteed as a misogynistic magazine editor whose weak point is revealed when he starts to fall back in love with his high school flame. In real life, Johnson couldn't be nicer, and he sat down with Vulture to discuss his raised profile, New Girl's great guest stars, and the importance of wearing a tie.
New Girl is very Sundance-approved. You and Zooey Deschanel are both veterans of the festival now, and even your guest stars like Lizzy Caplan and Ryan Kwanten are in Park City this year.
And Martin Starr is coming in! You know, what New Girl is doing is they're bringing in really cool people. These are home-run people who aren't your typical guest-star-type people. And so I think people are just having fun doing it, which, as a regular on the show, we are just so damn appreciative, because we don't just have some scrub coming in [to play a love interest for Deschanel], we have Dermot Mulroney. Or, my character has an old friend, and then I hear that Martin Starr is going to do that part. It's really exciting.
You've been working in independent film for a while now, but after doing No Strings Attached and New Girl last year, how much have things changed for you?
You know, I'll tell you, nothing changed after No Strings for me. A lot of people said, like, "Your game will be different," but it wasn't. It really wasn't.
But do you think it maybe helped you get New Girl?
Sure, it helped me within the industry. But New Girl was the job I got recognized for.
How do you deal with that?
You know, it was really bizarre at first, and then the story that changed it for me was, I was at the Art Institute with my wife in Chicago, and she's an artist. So, we'd gone back to visit my family, and it was her day: We're looking at artwork, and she's going to talk about it, and I'm going to listen. I was into it. And I keep hearing, "Hee hee hee." You know, the sound of a little girl giggling? And then, every time I would turn around, there'd be this group of little girls, who would then awkwardly look at a painting and pretend to be studying art, with their, like, iPhones out. And I slowly started putting together that I was being followed …
By these girls who were tweeting that you were there?
Tweeting, taking video, taking photos. So I just walked up and I was like, "You guys fans of the show?" And they were like, "Ahhhhh!!!" and they took a bunch of photos, and then they all took off. They were really nice. So now my way of thinking is that the people who are coming up to me, they like the work, and that's great. And everyone's been really nice. I heard a story about an actor — I don't want to give his name but he's like an "F you" kind of guy — and people will come up to him on the streets and be like, "Let's get beers and do cocaine!" And he's like, "It's Sunday morning, man." And I don't have that, I have sweet people who are like, "Hey, you play Nick, you're emotionally troubled, you're having a nervous breakdown."
You came to Sundance for the first time with the movie Paper Heart … how has it been different to be here this time?
I mean, night and day. No one knew who I was during the Paper Heart era, and I was behind the camera a lot in that movie. And my character is named Nick Jasenovec [the name of the movie's filmmaker], and so while I was here, people would think of me as the director, but I wasn't the director.
People literally confused you for him?
My agency got meetings for me, and when I went into these generals people didn't realize that they were pitching them as an actor. And they'd go, "I really liked Paper Heart, what else are you working on?" And I'd be like, well, I'm looking for my next project. And they'd say, "He's looking to direct." And I'd go, "You've got to be kidding me. I drove to Santa Monica for this?" But yeah, it's been really fun, and people are really taking to the movie.
The premiere of Safety Not Guaranteed was like a rock concert, almost.
It was madness. And you know that the Sundance audience is the best audience for a movie in the world. I hadn't seen this movie [beforehand] …
What a perfect way to see it!
I think I want to do that more often, where I don't want to see them in some screening room, because when you're an actor you just watch what you don't like, so it's nice when I don't have to think about, "Well, I didn't like this" or "I didn't like this." You hear the audience, the audience loves certain things, that's what the movie is, and that's what I'm trying to do with this one.
So, did you pack differently for Sundance this time? Did you just approach the whole thing differently?
I did and I didn't, because I've been doing New Girl nonstop, so I was working at night Friday, and then flew out Saturday morning and in terms of packing, I made a huge mistake. I like to dress up for premieres a little bit, I like to wear a tie, but last night I didn't – not from some stylistic choice, I just forgot to bring my tie. But I had that moment of, "Well, I guess I wore this last night, and I'm wearing this again today." I have, like, two shirts, and the boots Nike gave me.
You've worked with a lot of first-time directors, including on this movie.
I prefer to work with first-time directors.
How come?
Because I think it's like a first love. Sometimes, when you work with directors who have done it a lot and are established in the business and know the game, there are all these rules that they have. First-time directors will allow you to come in with choices. They're not so jaded by actors that they're like, "Ugh, just do your job, man." They're kind of like, "We need to make something good because my career depends on it, so if you have thoughts, it's very welcome," and it's a really passionate thing and they're so damn fired up every day. And they always start off wearing ties – they're like, "This is what directors do!" – although by the end, they're all tired and wearing t-shirts.
Last question is a silly one: Sometimes you're credited as Jake Johnson, sometimes Jake M. Johnson…is that a SAG thing?
Yeah, that's because of some 10-year-old.
So a 10-year-old got to the name before you did?
Yeah, but I'll just be Jake Johnson. It's easier. Let this kid sue me.