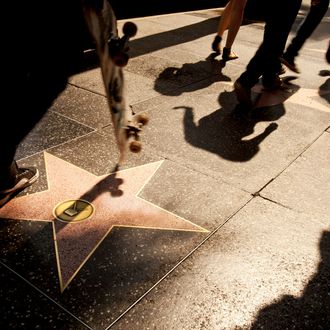 Many of Bowers' clients have stars on the Hollywood Walk of Fame. (Konrad Fiedler/Getty Images)
Photo: Konrad Fiedler/Bloomberg via Getty Images
Scotty Bowers, an octogenarian who personally "prefers the sexual company of women," was a twentysomething former Marine in the late forties pumping gas near Hollywood Boulevard when Walter Pidgeon, a Canadian actor and future president of the Screen Actors Guild, drove up in a Lincoln coupe and propositioned him. Bowers accepted (for $20, it's implied) and so started a several-decades-long career as the go-to guy for any of old Hollywood's closeted stars (along with some of their heterosexual peers) in need of "matchmaking" services, if you get the drift. Bowers's memoir, Full Service: My Adventures in Hollywood and the Secret Sex Lives of the Stars, comes out in two weeks and is, per the Times, "a lurid, no-detail-too-excruciating account of a sexual Zelig who (if you believe him) trawled an X-rated underworld for over three decades without getting caught." Read on for some of the names and sordid details strategically dropped into the paper's review.
Why Bowers Agreed to the Book: "I finally said yes because I'm not getting any younger and all of my famous tricks are dead by now. The truth can't hurt them anymore."
How Many Female Lovers He Set Katharine Hepburn Up With: Over 150.
Publisher Implicated in Bowers's Old Hollywood Sexcapades: Alfred P. Knopf
One of Several Publishers Who Turned Down Full Service: Knopf
Which Actress Would Disagree That Bowers Wasn't a Pimp, According to the Book: Lucille Ball
Why: One of the people Bowers was connecting with (other) bedmates was Ball's then-husband, Desi Arnaz.
Why Browers Asked Tennessee Williams Not to Publish an Article on Him: "He made me sound like a mad queen flying over Hollywood Boulevard on a broomstick directing all the queens in town."
Other Famous Stars' Names Mentioned: Cary Grant, Rock Hudson, Vivien Leigh, Spencer Tracy, and Cole Porter