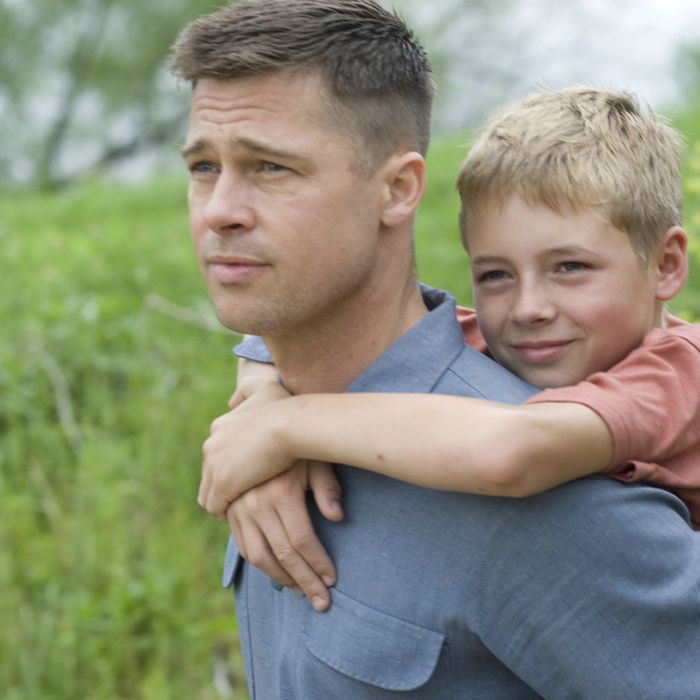 The Academy Award nominations were just announced — and it was actually a pretty surprising list of nominees! Sure, none of the extremely heavy favorites (Meryl, Viola, Michelle, George, Jean, Brad, Octavia) got snubbed, but there was some snubbage (Albert Brooks! David Fincher! Leo! Cars 2!), and some unexpected pictures (Tree of Life, Extremely Loud and Incredibly Close, Tinker Tailor Soldier Spy) and actors (Demián Bichir, Max von Sydow) got more attention than expected. All in all, there were enough jolts to give this morning's announcement a dash of freshness: Some previously locked-up categories are probably more wide open than people thought. Herewith, a list of the nine biggest surprises of the nominations. 
Demián Bichir and Gary Oldman In; Michael Fassbender and Leonardo DiCaprio Out
The road to a Best Actor nomination was always going to be difficult for Fassbender, who didn't get a SAG nod and whose film, the NC-17 Shame, proved far too provocative for the Academy. As for DiCaprio, well, the early fading J. Edgar was shut out of the nominations entirely. The result allowed two dark horses in, and expect many more studios to "pull a Bichir" next year by sending out their screeners way, way before Oscar season even begins, as Summit did with Bichir's A Better Life.
No Albert Brooks!
Things were admittedly shaky for Drive's Brooks back when he got snubbed by SAG, but most expected him to rally; certainly, he worked the Oscar circuit harder than anybody. And yet, when the names were announced for Best Supporting Actor, he'd been replaced by Max von Sydow from Extremely Loud and Incredibly Close, whom many had written off ages ago. Sorry, Albert! We loved you! Feel free to humorously live-tweet the Oscars now! (He's already got a head start on that.)
The Film With the Most Nominations? Hugo
Pundits often say that the film with the most nominations has the edge when it comes to Best Picture, but boy, it would be a shocker if Hugo (which impressed in the craft categories) proved that true.
The Tree of Life and Extremely Loud and Incredibly Close Impressed
Most precursors had snubbed these two movies, but the Academy rescued them both. As we've noted before, AMPAS loves Malick, but Best Picture and Best Director were considered long shots, so to nab both is impressive. As for Extremely Loud … well, we chuckled when that was the very last nominee announced (after a dramatic pause!), thrown in like the surprise spoiler it was. Well played, guys.
More Best Picture Nominees Than Most Had Expected
Oscar pundits tended to hedge their bets when it came to Best Picture this year, since even the number of nominees wouldn't be known until this morning. Most predicted seven, but in the end, nine movies were able to secure 5 percent of the first-place votes needed to advance. We'll leave you to speculate which film would have secured the tenth plot if the rules hadn't changed this year: Would it have been Bridesmaids, The Girl With the Dragon Tattoo, or something else?
Real Steel Is an Oscar Nominee
And for Best Visual Effects, where it beat out other high-profile contenders like the last Pirates of the Caribbean film! (Also in this category: The Rise of the Planet of the Apes and Transformers: Dark of the Moon. Sorry, Andy Serkis, this is where your work is recognized. )
Only Two Best Song Nominees!
The Best Song category is quirky: The short-listed tunes have to score above a certain number to get a nod, so there can be as many as five nominees but as few as two, which is what we had this year. And boy were they random! Sure, we loved the nominee "Man or Muppet," from The Muppets, but what about that movie's "Life's a Happy Song"? And to throw the second nomination at … "Real in RIO" from Rio, snubbing tunes in contention from Elton John, Mary J. Blige, Glenn Close, and others? Well, if you say so, Oscar. At least the award show's running time won't be extended by those pesky musical performances.
No Tintin
The Adventures of Tintin won the Golden Globe in the Best Animated Film category, but it didn't even place at the Oscars, which are cooler toward motion-capture. This one will prove to be an easy walk for Rango.
Pixar Still Got a Nomination!
But it didn't come for Cars 2 or its Toy Story shorts, but rather from La Luna, a short animated film that Pixar qualified last year in order to debut in 2012. Might want to rethink that suddenly sequel-heavy approach, Pixar.