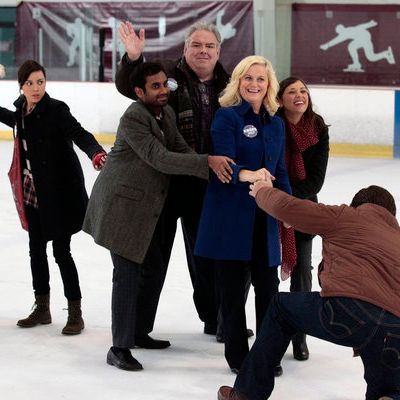 Welcome back to Pawnee! When we last left the gang, Ben was jobless and okay with it, and the parks department had decided to give Leslie the ultimate Christmas present by agreeing to be her campaign staff. Now we get to see what that gift actually looks like, and it ain't pretty.
Leslie, the world's most charming bulldozer, tells her team that she has decided who her campaign manager will be, while her team has all suddenly decided that there are other tasks that need their immediate attention, like Ron's shoelaces. Surprise, it's Ann, that "beautiful tropical fish," and Leslie won't take no for an answer. Ann reluctantly agrees.
We switch gears to Casa Dwyer/Ludgate/Wyatt, where Ben calmly greets an adorable three-legged dog that has just wandered into his house. (No one deadpans like Adam Scott.) The dog is Champion, April and Andy's new pet, and within moments they've guilted/coerced Ben into taking care of him. Sometimes I think that April and Andy are Mickey and Mallory Knox with less motivation, and I love them for it. (Side note: I am incredibly excited about Ben's enormous, multifaceted new hair and hope it's a permanent change.)
Leslie's campaign team, including Champion, assembles to plan her comeback rally, while Ben explores the wonders of hobbies. Chris pays Ben a visit at home and finds him elbow deep in calzone recipe books and pizza dough with plans to open the Low-Cal Calzone Zone, wearing a sweet Letters to Cleo shirt, and working on a really cool Claymation project. Ben insists that he's just enjoying his free time, but Chris takes one look at his hair and knows he's depressed.
We are then treated to our only Tom scene of the episode, where he explains the importance of red carpeting to glam up events on the cheap. (Red carpet insoles should be on the shelves within the hour.) This is followed by a lovely couple of moments of Tom, April, Andy, Champion, and Ron in the commercial truck rented to haul the stage for Leslie's rally, Tom reluctantly perched on April's lap after Ron insisted he "be a man and sit on the girl's lap." They are pulled over, and we see Ron's gruff, man-to-man logic being used on law enforcement and failing miserably. Leslie comes to save them from being arrested, but they're forced to leave the commercial truck where it is and stuff as much of the rally supplies as they can — not many —  into Leslie's car.
Not only are they missing half of their supplies, but the rally is booked on an ice skating rink. The team decides to man up and walk out to face the rally together, and what follows is one of my favorite sequences in Parks and Rec history. When Tom's red carpet runs out halfway to the stage, the team has to hobble gingerly across the ice to Gloria Estefan's "Get On Your Feet," which plays in a stilted, shrill loop. It's a long walk. Andy falls spectacularly, Champion pees on Ron and is unceremoniously dropped onto the ice, and Leslie has to get an alley-oop to make it onto the stage. Pistol Pete, the former high-school basketball champ who had refused to dunk a ball to endorse Leslie because he wanted to "move on," has had a change of heart and gears up for a dunk, only to slip and fall on the ice. (FYI, Pistol Pete was not played by Rob Delaney, although the actor did resemble him.)
Back in the Low Cal Calzone Zone, Chris is trying to convince Ben that he is depressed, citing his hair, shirt, and hobbies — damn, I guess the hair is not permanent — and Ben protests by showing Chris the results of his arduous Claymation efforts … which is a four-second clip. Turns out stop-motion takes longer to film than he thought. He admits that he's depressed, which makes it even sweeter when Leslie shows up with the gang, fires a relieved Ann, and hires Ben as her campaign manager.
This was a good start post-break, although I could have used more Ron, more Tom, and at least some Donna. I just hope this isn't the last we see of Champion. It drives me nuts when TV shows get pets/kids, only to have them disappear two episodes later. It was fun to see Leslie not be completely on top of things, not pull something spectacular out of nowhere at the last minute, and (gasp!) admit she needs help. I think I like campaign Leslie.