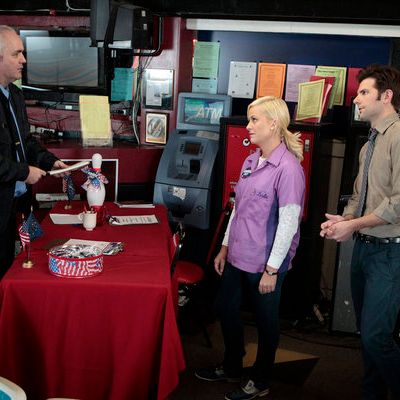 Leslie Knope is elbows deep in her campaign, and we're getting to see what happens to a control freak when she puts herself up for public consumption, a situation that, as reading any selection of YouTube comments will indicate, is the definition of chaos.
We find Leslie and Ben watching focus groups about Leslie from behind a two-way mirror, and though she's getting a variety of critiques ("She's aggressively short!"), she fixates on one guy who says that she doesn't seem like the kind of gal you can go bowling with. She can bowl, just ask Ron! And there's the Leslie we remember, the manic, spastic, whirlwind of neuroses! By the time we see her again, she's compiled an enormous dossier on the "bowling guy," Derek, and she's determined to fix him by throwing a bowling social so she can let Pawnee get to know her.

Now it's time to check in with the rest of the team as they prepare for a phone drive for Leslie's campaign. (Champion sighting!) Everyone's in proper form — Jerry is giving out his social security number to callers, Donna is having phone sex, April is threatening people, and Chris is terrifyingly enthusiastic. Seriously, if he sat at your table at Starbucks, you'd move to another table, even if it meant giving up an outlet.

At the bowling campaign event, Leslie struggles to look laid back. Tom shows up in designer bowling gear and Drive scorpion jacket; Ron channels Chuck Norris in discussing bowling alley food — "When I eat, it is the food that is scared"; and Ann kinda seems to be there so that Tom and Ron can be funny at her. I usually see Ann as being "us" in Parks and Rec, the rational one among the weirdos, but more and more, I just want her to get weird too. The three of them bowl together, and Ron is horrified to find that Tom's little-boy style of bowling works better than Ron's techniques.

Back at the phone drive, Chris is enthusiastically racking up donations, so April decides that she must beat him in order to ruin his happiness. We are treated to polite April, Southern April, and Hispanic April, and they're all making bank for the campaign. Chris is so excited because he's going to ask Millicent to move in with him, which is when Jerry, out of earshot of Chris, reveals that his daughter is planning on breaking up with Chris. Bonus, she's on her way to the phone drive RIGHT NOW!

She arrives, and Chris and Millicent announce they're going on a walk. "Take a jacket" Donna says. "Millicent's company will keep me warm," says Chris. " … take a jacket." April, who wished for Chris's misery earlier, now thinks she might be a wizard.

Back at the bowling social, Ron is horrified that Tom's bowling method works, and then accidentally smashes Tom's finger, which elicits a lot of high-pitched whining about "hurt fingies" from Tom. And of course focus group Derek is at the event, and of course Leslie hones in on him in an attempt to win him over. They start bowling, Leslie charming him with wings and knowledge of Ice Road Truckers. Even after she lets Derek win, he says he won't vote for her because he "doesn't like her." She is enraged, screams that she let Derek win, and challenges him to another bowling match, this time for his vote.

Leslie wins this match and Derek responds by calling her a bitch, which makes Ben go all boyfriend and punch Derek out. Awesome! Leslie responds by making out with him, and that's when the press starts taking photos. I loved this as an introduction to how Relationship Leslie is going to deal with Workaholic Leslie and vice versa, and it's a struggle I hope we see more of in the future. Even when the cops arrive, Leslie defends Ben's actions, and better, kind of loves what he did.

Resolution time! April, who scored the most money from donors, goes to check on Chris the next day, and finds him heartbreakingly unable to say anything positive about the breakup. She awkwardly hugs him and offers to go with him to use the movie tickets she won from the phone drive. Aw, look at April being nice! We are then off to Leslie's press conference about the bowling debacle, and after starting a standard apology, Leslie decides she doesn't want to apologize for her actions or for Ben's, and if you don't vote for her because of that, fine … but her boyfriend may beat you up. Look at this relaxed, charming candidate! Now focus groups are loving how ballsy and charming Leslie is, and hopefully we'll get to see more of this Leslie. My only request? More of Paul Rudd's Bobby Newport, and more Champion!