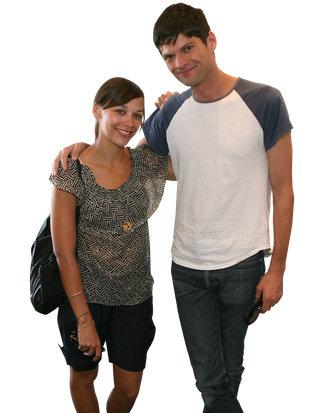 Rashida Jones and Will McCormack.
In the bittersweet Sundance comedy Celeste and Jesse Forever, Rashida Jones and Andy Samberg play two exes who try to make their post-breakup friendship work, and one could only hope it goes as swimmingly for them as it has for Jones and her real-life ex, Will McCormack. The pair wrote the movie together (McCormack also plays a supporting role) and have several other projects lined up now as a writing duo. But would Jones ever consider scripting an episode of Parks and Recreation, as her co-stars Amy Poehler and Nick Offerman have? And how have Jones and McCormack been able to manage the transition from romance to writing? Vulture sat down with them at Sundance to find out.
So let's talk about the premiere.
Jones: It was hard-core.
McCormack: It was intense. I had a lot of feelings. It's just been a long, long road, and our families were there, and it's the first movie we've ever written. There seemed to be a lot of good energy around it, and a lot of expectations.
Jones: Yeah. I don't like expectations.
McCormack: I don't either!
So when there were articles that listed Celeste and Jesse as one of the most anticipated Sundance movies, that freaked you out?
Jones: Yeah! Just go see the movie! Don't talk about it. Just do it, you know?
McCormack: It's such a small film. We made it in the summer, on a pretty small budget — it was made in really a homemade kind of place. And suddenly people were having such big expectations and …
Jones: Anointing it.
McCormack: And we were like, wait a minute! We made this in our backyard.
Jones: Not that you ever want to be like, "Just remember we didn't spend a lot of money!" But, you know, you kind of want to. I think maybe because it's me and Andy, and we've been in other big-budget stuff, that's part of it, you know?
When you went to the after-party for the movie, did you actually get to enjoy yourselves? Or were you more concerned with reviews, tweets, distribution, and all that?
Jones: I gotta say, we've been struggling with this whole idea of "enjoyment." It seems like a really simplified term to describe how we're feeling. We had a hard time during the screening for several reasons, but mainly just because it was huge exposure. It felt like a naked picture of you was onscreen.
McCormack: It was a whole new deal. It was just our first film. As actors, I feel a lot less pressure: If people like me, great, and if they don't …
Jones: "I blacked out."
McCormack: "They didn't use my best takes."
Jones: "Ahh, I don't know what they did with the story! The editing!"
McCormack: But as writers, it's kind of on us. If they don't like it, it's our fault. It was totally an acid trip. It was crazy.
How long have you guys been working on this project?
Jones: We finished it in November 2008. We sold it in March [2009]. We started it in August — we wrote it fast — and we did a rewrite, and then we sent it out in March and we sold it in 36 hours. And we were like, "That's it! We're in, dude. We're making our movie." And Fox Atomic folded a month later. And then we set it up at Overture, and then they folded. And then we set it up like three, four more times over the next couple years?
McCormack: It kept falling apart.
Do you two try to persist in having that best-friendship with exes?
Jones: I'm good friends with my exes.
McCormack: I am, too.
Jones: I think there's something you love about each other and you don't want to not have that person in your life. But I do think there has to be a little resting period. I don't think you can pull a Celeste and Jesse. You've gotta give it some time. Like, Will and I dated briefly and then we didn't talk for a little bit, and then we were cool.
How did you guys decide you were compatible as writers?
Jones: Will's sister Mary set us up — we'd done a movie together — and I think we connected really fast, but he was having some ex-girlfriend issues, and we were young, whatever.
McCormack: [Rolling his eyes.] I love you, Rashida.
Jones: I love you, too. But I think we knew we were gonna connect in some way that was kind of internal.
But asking someone to co-write something with you, it's akin to asking someone on a date, or asking someone to be your roommate. It's very fraught.
Jones: It's worse! It's worse.
McCormack: We could go to therapy.
Jones: Definitely we could go to therapy. We have more dynamics — we have brother-sister dynamics, we have more marriage dynamics — than anybody. It's worse than asking for a date.
McCormack: I spend more time with you than anyone I've ever dated.
Jones: Me too.
Is that weird? To tell someone you're dating, "Oh, actually, this other person in my life is extremely important."
McCormack: Um … I had a girlfriend recently …
Jones: Yeah. She didn't love it. [Laughs.]
McCormack: She did not love it.
Jones: Yeah, yeah. It's definitely difficult, but I think once people hang out with us, there's no threat. We talk about poop. There's no threat.
McCormack: Yeah. Are you saying I'm not a threat? [Laughs.]

Since you're both in the movie as actors, did you think, "I want to write something that will make people perceive me a little differently"?
Jones: Yeah. For me, for sure. I tend to play the dependable, affable sidekick-girlfriend-wife, which is great, but it's definitely not all of who I am or what I'm capable of. I definitely thank Will for this, eternally, that he gave me the opportunity to play this part that's colorful and flawed. You know?
Formerly in romantic comedies, when the women had a flaw, it was basically that they'd fall down.
Jones: "I'm so klutzy and busy!"
And now they're actually kind of messy. They make their own bad choices. Sometimes they drink too much. It's a lot more like life.
McCormack: I think it's great. Bridesmaids certainly helped with that. We wrote this movie sort of as an Apatow movie, but for a girl.
Jones: Before we knew Bridesmaids was happening.
McCormack: What if Seth Rogen was named Stephanie Rogen … what? [Laughs.]
Jones: Celeste Rogen?
McCormack: But what if those movies were female-driven movies, you know? I love Judd Apatow movies, I'm obsessed with them, but what if you did one for a girl? That's what we kind of tried to do.
Rashida, I know some of your castmates have written Parks and Rec episodes. Is that something you might want to do?
Jones: Yeah, totally. Yes. I'm terrified, because I'm kind of in love with every character on that show, and our writers are ridic. So to assume that I could do as good of a job as them …
McCormack: You had a movie at Sundance! You're a huge writer now.
On that note, do your Sundance badges say "Writer" or "Actor"?
Jones: I just took a picture of my badge, which says "Actor/Writer/Producer." It was the best moment of my life. So good. So good.