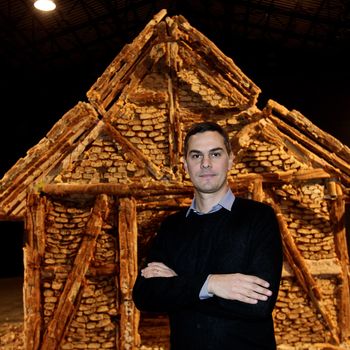 Gioni in Florence, 2011.
Photo: Vittorio Zunino Celotto/2011 Getty Images
If the artistic past is any predictor of future behavior, the heads of the Venice Biennale did themselves a solid this afternoon, naming the New Museum's Massimiliano Gioni the chief director of the 55th Venice Biennale. Even though he oversaw my own 2011 museum nadir — the recently closed Carsten Holler slideshow — Gioni has overseen, curated, thunk-up, and been behind so many interesting efforts, wedge ideas, and optimistic energy that there's every reason to believe his Venice effort will be arousing.
Born near Milan in 1973, Gioni is no stranger to tricky Venice shoals. In 2003, Biennale director Francesco Bonami invited Gioni to create a temporary pavilion at the center of the Giardini. Even though that year's show opened in 106-degree weather and critics ripped it to shreds, Gioni's show was a smash. (Since then, critical opinion has turned, and Bonami's show has been hailed as a milestone of prescience; his co-curator, Daniel Birnbaum, ran the Biennale himself in 2009.)
Along with co-conspirators Maurizio Cattelan and Ali Subotnick (who, when they were young, founded and ran the still-missed Wrong Gallery), Gioni created the extraordinary Berlin Biennial in 2006. More recently, at the New Museum, Gioni organized the excellent "After Nature" and last year's telling foray into the history of communistic art, "Ostalgia." In 2010, he ran the Gwangju Biennale, which was by all reports stunning.
It's not beyond Gioni to do a bad show, but I'm hopeful that he won't for several reasons. He isn't one more carbon copy among the men and women in black known as the International Curators. He tends not to just select artists for his shows who've been selected by other curators for their shows. His lists are always different (a few years ago he put Werner Herzog in an exhibition; now the Whitney will be putting him into next month's Biennial). Good or bad, Gioni's show won't be just another insular echo, one more lineup of black-and-white-and-silver art about art about art. Especially because, contrary to most of his colleagues, Gioni doesn't fear  painting, or shun color, chaos, or the aged. Best of all (in my eyes, anyway), his idea of art is entirely open to what we still call "outsider artists." Like a growing number of younger curators, artists, and dealers, Gioni doesn't make dead distinctions between high and low art, or fine art and so-called folk art.

I am old now. But I hope to still witness two artistic things. First, to see American museums merge insider and outsider, so that when I go to MoMA and the Whitney I see the visionary work of Martin Ramirez, Henry Darger, Bill Traylor, James Castle, and Thomas Chambers next to the artists of the modernist canon. The other thing I want to see is living "outsiders" included in our Biennials. Both of these things have begun to happen — the latter more often than the former. Until each of these things is absolutely unremarkable, then art will not have had its own Jackie Robinson moment. Gioni has always crossed this and other barriers freely. That, along with Gioni's unpredictable, original, eager eye, is one reason I just made my 2013 Venice hotel reservations.
Earlier: Massimiliano Gioni: The Newer Museum